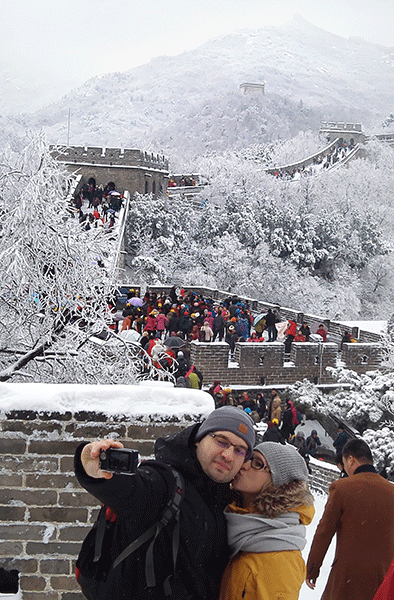 Tourists take a selfie in the snow on the Great Wall in Beijing on Friday.[Liu Ping/Chen Lijie/China Daily]
Beijing and other cities in northern China are expected to see heavy snowfall in the next few days, and there will be sharp drops in temperature.
China's weather observatory on Saturday issued a blue alert, the lowest in the four-tier color-coded weather warning system, for snow storm in Beijing and neighboring regions.
Snowstorms will hit Inner Mongolia Autonomous Region and northern provinces of Shanxi and Hebei as well as Beijing and Tianjin municipalities on Saturday and Sunday, with some areas expected to see snowfall of up to 12 millimeters, the National Meteorological Center said.
The center suggested snow-hit areas take precautions as temperatures were forecast to plunge. Sharp drops in temperature are expected in the next few days in Beijing. The lowest temperatures could reach minus 12 C in urban areas and as low as minus 18 C in some mountainous areas in Beijing municipality.
Sun Jun, a weather forecaster of the National Meteorological Center, said the chilly temperature will make it a record compared to historical averages in November.
He said Beijing is expected to enjoy blue skies and good air quality for several days after the snow.
Beijing welcomed its first snow on Nov 6, more than 20 days earlier compared with last year. It saw the second snow on Friday. Experts said such frequent snowfalls in Beijing in November are not common.
Some areas such as Hebei, Shanxi and Jilin provinces, and the Inner Mongolia autonomous region also experienced snowfalls on Thursday or Friday. The rain and snow will continue in the coming five days in most of the regions.
Sun said the heavy snows next week may result in disasters in some regions and related preparations should be made to minimize its impact on transportation, the operation of urban services and animal husbandry.
Beijing municipal government hosted a video conference on Friday to ensure supplies of electricity and gas, and make arrangements for shoveling snow and guarantee that traffic keeps moving.
Meteorological experts said this year the periodic El Nino event may be one of the strongest in more than half a century and cause irregularities in the global climate. Early snowfall is also part of its consequences.
2014 was the hottest year on record and the first nine months in the 2015 were also the hottest compared to previous years, adding urgency to the United Nations climate conference to be held at the end of this month in Paris.
China was one of the first among developing countries to adopt active measures in setting goals for coping with climate change and the country has adopted active measures, Zheng Guoguang, head of China Meteorological Administration, said at the launch of China's Annual Green Book of Climate Change on Friday.
Chen Ying, a researcher at the Institute for Urban and Environmental Studies at the Chinese Academy of Social Sciences, said Paris will be a new start for a global regime on addressing climate change.
The success of the Paris conference will be judged on whether it could reach an "equitable, effective and win-win" agreement, said Chen.
In China's four-tier color-coded weather warning system, red represents the most severe weather, followed by orange, yellow and blue.