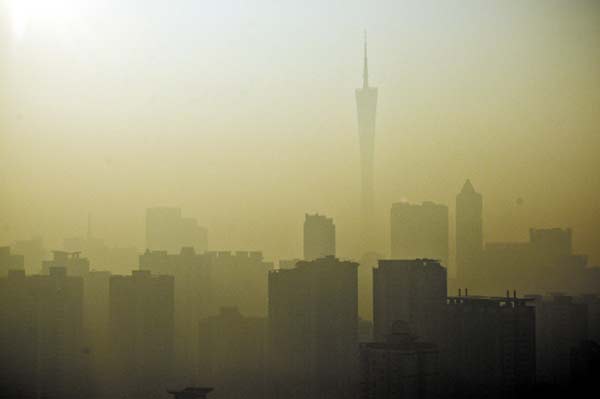 High-rise buildings are partly visible in heavy smog in Guangzhou city, South China's Guangdong province, Jan 31, 2014. [Photo/Yangzi Evening News]
An estimated investment of at least 1.87 trillion yuan ($ 293 billion) is needed to meet the target of the national plan to control air pollution, and current funds are inadequate, said a report on Thursday.
A report, titled Investment Requirements and Potential Effects of Implementing China's Air Pollution Prevention and Control Action Plan, was released by Clean Air Alliance of China (CAAC) in Beijing on a hazy Thursday. CAAC is an environmental think tank initiated by ten of China's top universities and government environmental institutions.
The report is based on two-year field research led by the Chinese Academy for Environmental Planning and Nanjing University on airborne pollution and its prevention and control in northern China's Beijing-Tianjin-Hebei (Jingjinji) region, eastern China's Yangtze River Delta region and southern China's Pearl River Delta region and other places.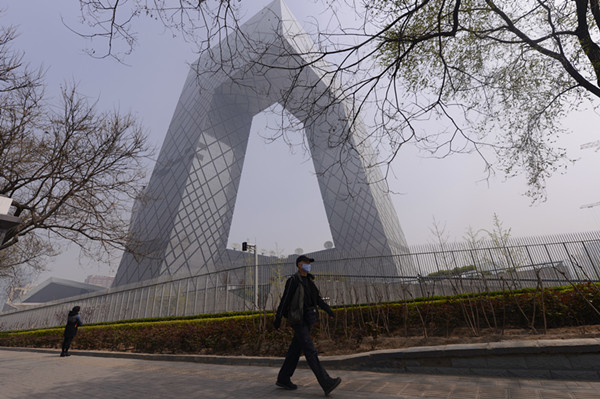 A man wearing a facemask walks on a street beside the CCTV building in Beijing in a hazy day in April. [Photo by Wei Xiaochen/Asianewsphoto]
It shows that at least 1.87 trillion yuan ($ 293 billion) is needed nationwide to meet the 2017 air quality standard set by the national plan, with Jingjinji region costing 249 billion, Yangtze River Delta region 238 billion and Pearl River Delta region 904 billion.
In September 2014, China unveiled The Airborne Pollution Prevention and Control Action Plan (2013-17), which was reportedly backed by an investment of 1.7 trillion yuan from the central government.
According to the report, 5 billion yuan and 10 billion yuan of special funds from the central government were invested in airborne pollution prevention and control in 2013 and in 2014 respectively, which falls far short of what is needed.
The report recommended four types of airborne pollution prevention and control measures that require investment.