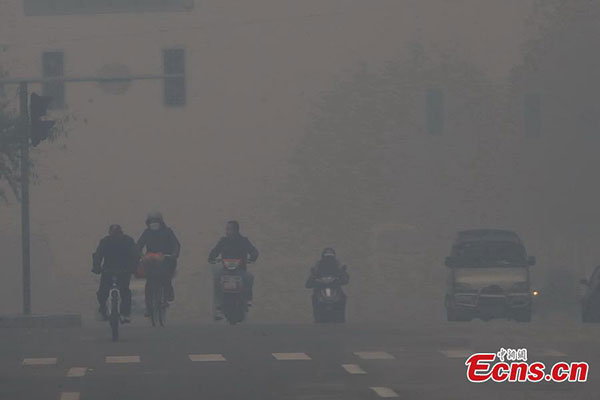 Photo taken on Nov 8, 2015 shows smog-shrouded downtown Shenyang, Northeast China's Liaoning province. Serious air pollution shrouded 14 cities in Liaoning province on Sunday, with provincial capital Shenyang witnessing a peak reading of the concentration of PM2.5 - airborne particles measuring less than 2.5 microns in diameter - of 1,017 micrograms per cubic meter.[Photo/Ecns.cn]
Air pollution reached extremely hazardous levels on Sunday in Shenyang, Liaoning province, after coal-burning heating systems were put into use for a week in Northeast China's biggest city.
The concentration of PM2.5, the fine particulates that pose hazards to human health, reached 1,155 micrograms per cubic meter, soaring far above the World Health Organization's standard safe level of 25 micrograms per cubic meter.
The reading was as high as 1,400 at some monitoring sites, the city's environmental protection bureau reported. The bureau upgraded its emergency response level to the highest tier on Sunday afternoon.
The air quality index in nine of 14 cities in Liaoning province reached above 300, an extremely hazardous level. Shenyang, Anshan, Liaoyang and Tieling, where the index climbed above 500, were the most polluted.
Particulates, mainly from coal, and air pollutants from Jilin, Heilongjiang province, carried in on the wind are the major causes of the severe pollution, The People's Daily website reported.
The number of patients needing respiratory care "has significantly increased by at least 15 percent in the last two days due to heavy pollution", Shen Yangjia, director of the respiratory department at Jinqiu Hospital in Shenyang, told the Xinhua News Agency.
Pollution levels are expected to remain high over the next a few days, the Harbin municipal Meteorological Observatory said.
"Snow that started to fall on Sunday last night might be helpful to reduce air pollution, but that effect is not sustainable when the temperature is expected to rise," said Lei Chengrui, researcher at the meteorological observatory.
Zhou Huiying in Harbin contributed to the story.