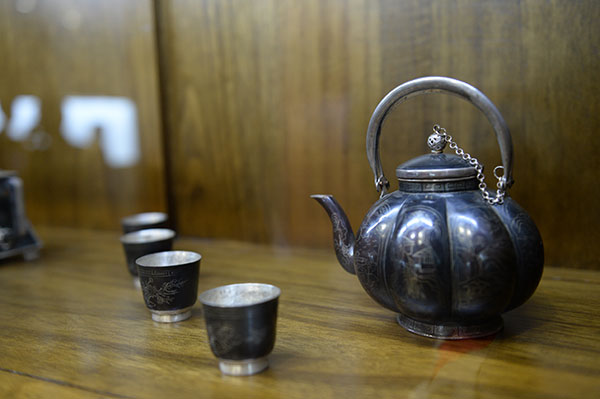 A tea set made by Silver-inlaid Black Copper is displayed in the learning center of Jin Yongcai, Nov 19, 2015. [Photo by Tan Qing/For chinadaily.com.cn]
Silver-inlaid Black Copper, a handmade craftwork called "wutongzouyin" in Kunming, capital of Southwest China's Yunnan province, is regaining its popularity in recent years.
Different with other copper ware, Silver-inlaid Black Copper requires a complicated yet delicate process. The craftwork uses black copper as the roughcast, engraves it with decorative designs and inlay melted pure silver (or gold) into the nicks. After high temperature fuses the two metals into one, technical treatments, including cooling, grinding and polishing, turn it into an exquisite artwork with antique style.
With a history of nearly 300 years, Silver-inlaid Black Copper used to enjoy equal reputation as Closonne, or jingtailan, also known as "copper padding thread weaving enamel", in art field. The industry collapsed during the war time around 1940s.
"Now more people buy the craftwork as a collection," said Jin Yongcai, the sixth-generation inheritor of Silver-inlaid Black Copper in Yunan.
"Apart from traditional shapes including drinking vessels and censers, we now also provide customized options to our clients," Jin said. "That's one of the innovations we made to promote this traditional art."
Already 64, Jin is still busy with the promotion of this traditional crafts art. Every month he attends an exhibition of the Silver-inlaid Black Copper works. He has traveled to many countries including the US, Germany and United Arab Emirates, to participate in cultural exchanges.
In 2011, the art of Silver-inlaid Black Copper was listed among the third batch of China's Intangible Cultural Heritage under Protection.
"With the government's support, this copper art enjoys more opportunities to be promoted and inherited," he said.
Jin has 11 apprentices in total with the youngest in 20s and the oldest more than 50. He opened a learning center to teach the new learners several years ago.
"It takes a man at least five years to learn the skills but to make a delicate work one needs about 20 years," Jin said.
"Now there are only two of my apprentices who can match the craft skills of me," he said. "It just takes time."
Restrained by traditional thoughts, Jin didn't pass on the skills to his two daughters, but now he has taught his sons-in law this crafts art.
Ding Dawei, one of his sons-in-law, has been not only learning the skills, but also innovating. He divided the products into different types based on different market needs. Now their business has seen much improvement than before, but most of the profit will be used to the inheritance of the art.
"We live in the peace era with strong national economy, which is the best timing for the development of craftworks," Jin said.