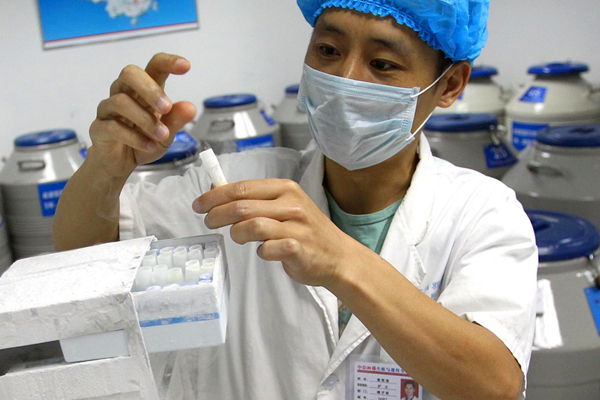 Sperm banks in China are seeing an increase in the number of visits by infertile couples.[Photo/China Daily]
In a major reproductive breakthrough, scientists in Shanghai have created mice by using two eggs and no sperm.
The team achieved this pioneering feat by modifying an egg and making it work as a sperm replacement that is injected in another egg to activate fertilization.
A paper on their discovery was published in China-based international scientific journal Cell Research on Nov 17.
They promoted cell division of a mature egg through chemical means and created a line of cells. After modifying one cell by removing two genes, they injected the cell into another egg as part of artificial fertilization process.
"In our experiments, more than 15 out of 100 embryos finally developed into mice. They are healthy and show no difference in development and fertility from the ones that are naturally conceived," said Zhong Cuiqing, one of the researchers in the team led by Li Jinsong from the Institute of Biochemistry and Cell Biology, a branch of Shanghai Institutes for Biological Sciences under the Chinese Academy of Sciences.
Zhong said the success rate can be called surprisingly high as the rate of the regular artificial fertilization that involves an egg and sperm-derived haploid cell on mice is between 20 and 30 percent.
The scientists also conducted experiments on whether two sperm cells can create the next generation, but that however ended up in failure.
The study is a revolutionary step as it comes close to proving that mammals can possibly reproduce without the need for sperm. But it has also raised concerns.
"It will trigger severe ethical problems if such technique is applied to human beings," said Li Yinhe,China's best known sexologist. "The whole social order would substantially change."
Liu Ping, deputy director of the fertility center of Peking University Third Hospital, said it will take pretty detailed discussions about whether to apply an assisted reproductive technology to humans both technically and ethically, and she believes such innovation will not bring negative effects on the human society.
"After all, life is a serious matter," she said.
zhouwenting@chinadaily.com.cn
Yang Wanli in Beijing contributed to this story.