CPC Central Committee honors former Party leader on the 100th anniversary of his birth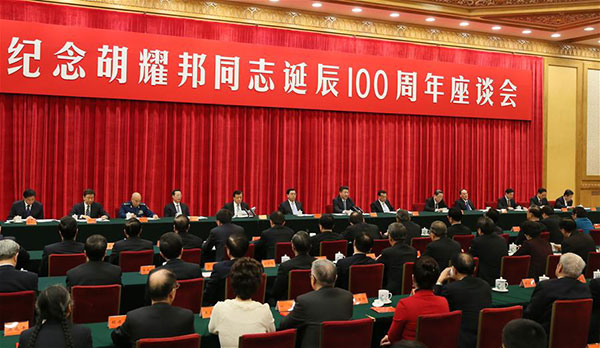 Top Communist Party of China (CPC) and state leaders Xi Jinping (C, rear), Li Keqiang (6th R, rear), Zhang Dejiang (6th L, rear), Yu Zhengsheng (5th R, rear), Liu Yunshan (5th L, rear), Wang Qishan (4th R, rear) and Zhang Gaoli (4th L, rear) attend a symposium to commemorate the 100th birth anniversary of Hu Yaobang at the Great Hall of the People, in Beijing, capital of China, Nov 20, 2015. [Photo/Xinhua]
BEIJING - The Communist Party of China (CPC) Central Committee held a symposium to commemorate what would have been the 100th birthday of its former general secretary Hu Yaobang on Friday at the Great Hall of the People in Beijing.
CPC leaders including Xi Jinping, Li Keqiang, Zhang Dejiang, Yu Zhengsheng, Liu Yunshan, Wang Qishan and Zhang Gaoli attended the symposium.
Xi spoke about Hu's great and glorious achievements, saying that Hu had made outstanding contributions to China's independence and liberation, its socialist revolution and construction, and the exploration and creation of socialism with Chinese characteristics.
Hu was extolled as a time-tested and loyal communist soldier, great proletarian revolutionist and statesman, outstanding political worker of the military and prominent leader of the Party.
He devoted all his life to the Party and the people, Xi said.
"To commemorate Hu Yaobang is to learn from his noble character of always being true to his belief and dedicated to his ideal," said Xi.
"Our highest ideal is communism," Xi quoted Hu as saying. He asked all CPC members to have similar firm faith and ideals, and be more confident in the road, theory and institutions of socialist with Chinese characteristics.
To commemorate Hu is to learn his devotion to the people, Xi said, urging CPC members to formulate policies according to the people's expectations.
Hu was born on Nov. 20, 1915 in Liuyang County in central China's Hunan Province. He joined the CPC when he was 18.
He participated in the Long March, a forced expedition over 12,500 kilometers in the 1930s and played an important role in victories throughout China's war against Japanese aggression, and the war of liberation, Xi said.