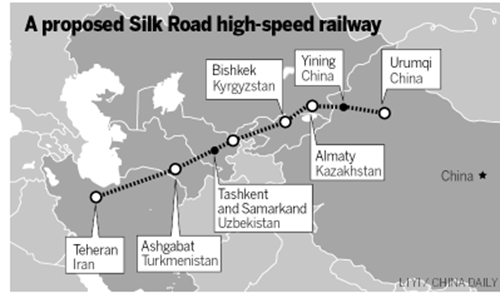 A proposed Silk Road high-speed railway. [Li Yi/China Daily]
China's railway authority has proposed a Silk Road high-speed railway connecting the country's northwest region to West Asia via Central Asia, a plan it said would overcome the cross-border connectivity problem of different rail standards.
He Huawu, chief engineer of China Railway Corp, put forward the proposal at a Thursday forum on the One Belt, One Road Initiative hosted by China Civil Engineering Society.
His proposed route was from China's Urumqi and Yining to Almaty in Kazakhstan, then to Bishkek in Kyrgyzstan, Tashkent and Samarkand in Uzbekistan, Ashgabat in Turkmenistan and finally blending into West Asia's network through Teheran, Iran.
The northeast-southwest line would be complementary to the existing railway network in central Asian nations, which mostly run southeast to northwest toward Moscow, He said. What's more important, it could get rid of the incompatibility between this region's wide-gauge track systems and China's standard-gauge system.
For years, the 1.52-meter track standard adopted in Central Asia has been a headache for logistics managers because it is not based on the 1.435 meter standard track adopted in China and most other parts of the world. Changing gauges at the border takes days for cargo and significantly cuts railway transport's competitiveness against shipping by sea.
It is unlikely now to persuade those countries to change their existing railways, He said, but the high-speed rail he envisions along the new route would connect seamlessly to China's network and other regions. That's because the worldwide standard for fast rail is the 1.435 meter variety, so a new line could be built based on it.
"The Khorgos station bordering Kazakhstan last year handled less than 17 million metric tons of cargo running at full capacity, but beyond the station, the east-west annual cargo transportation capacity is 100 million tons," He said.
The bottleneck undermined the idea of a large-capacity corridor.
"Increased container traffic and sea container traffic moved by land instead could justify the cost of building the line," he said.
According to He, container trains and passenger trains could run on the same route. The only difference would be speed. A passenger train could run at 250 to 300 kilometers per hour, while a container train could run at 120 km/h.
Other experts cautioned that an Asian railway link has been under discussion for a long time and has not materialized mainly because of various geopolitical concerns of the countries alone the route.