Experts call for more attractive domestic games, say chasing payouts overseas is risky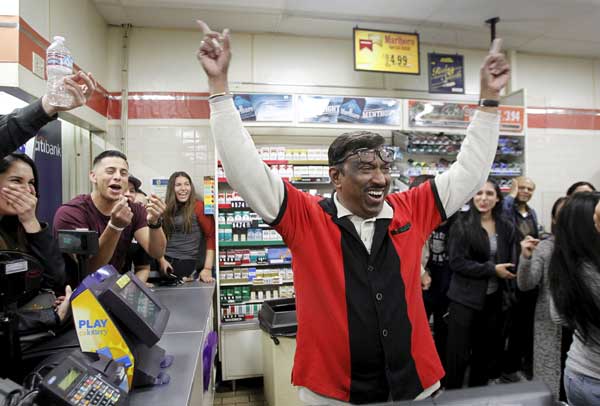 7-Eleven store clerk M. Faroqui celebrates after learning one of three winning Powerball tickets was sold in the store in Chino Hills, California, on Wednesday. ALEXGALLARDO/ REUTERS
China should introduce more kinds of lotteries and ease the buying process for its citizens, industry experts said, as many Chinese joined the rush this week to buy tickets for the record Powerball jackpot in the United States.
Ticket holders in three US states will split the record $1.6 billion jackpot, the California Lottery said. The cost for each ticket was $2.
"In China, if you spent just 2 yuan (to buy one ticket), the highest possible reward is about 5 million yuan ($760,000). You have to spend more if are hoping for a bigger prize," said Su Guojing, founder of the China Lottery Industry Salon, which describes itself as a quasi-industry association.
"You have to spend around 300 to 400 yuan if you want to win the highest prize of 2.2 billion yuan," which is currently the jackpot of China's own lotteries, he said.
Su said the current lottery products cannot not meet the demand, especially after government agencies suspended online lottery sales last year.
This is seen as an incentive for Chinese to seek alternatives overseas that could pose risks for buyers in China.
China has two State-run lotteries: the China Sports Lottery and the China Welfare Lottery. The Ministry of Finance previously approved two companies, 500.com Ltd and China Sports Lottery Operation Co, to engage in online lottery sales under a pilot program.
Any entity or institution without the approval of the Ministry of Finance is forbidden from engaging in online lottery sales.
Cheng Yang, a lottery industry specialist in the Guangxi Zhuang autonomous region, said buying Powerball tickets in China through overseas agencies, relatives or friends in the United States is risky, since if disputes arose the buyers in China might not be able support their claim in a court of law.