Every year, thousands of young Chinese head overseas to study. For many, the thrill of moving into a new environment is overshadowed by feelings of alienation and a lack of friends in their host country. Wang Fan and Yuan Yue report from New York.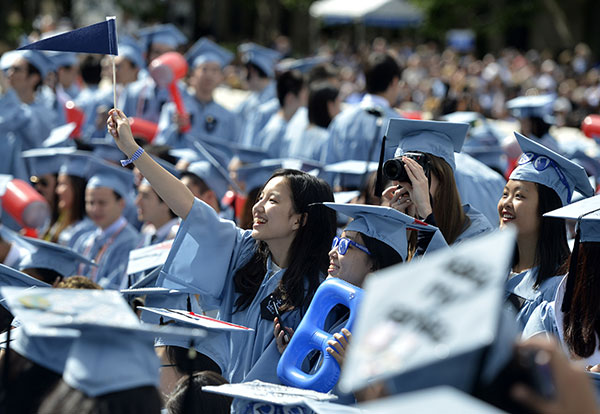 Several Chinese graduates attend a graduation ceremony at Columbia University in New York. YE PINGFAN/PAN CHAOYUE/WANG LEI/YANG YONGQIAN/XINHUA/CHINA DAILY
On a summer day in 2010, 18-year-old Jane Yu quick-stepped through the cool morning wind in Iowa in the central United States, a backpack slung over her shoulder. She was a freshman at Iowa State University.
"I fitted in to the new environment quickly, but sometimes it was a little bit awkward when an 'American joke' popped up during a lecture and the whole class burst into laughter, except me," she said.
"But I would still laugh along, even though I did not quite get the joke," she said, with a laugh. "However, it was a little frustrating - seeing myself as a cultural outsider on occasions like that when the students interacted with their professors."
To acquaint herself with popular US culture, Jane regularly watched The Daily Show, a satirical news program, which was then hosted by comedian Jon Stewart. "It's one of my favorite news programs. I love it because it delivers something very serious through humor."
Fast forward five years and Jane is now a graduate of Columbia University. "If you spend a lot of time learning about American culture, you will gradually get the jokes. But they are still my 'blind spot'," she admitted.
Jane's endeavors to navigate through a different culture and her feeling of being an "outsider" are shared by many Chinese students who have studied at schools in the US over the past few years.
Recently published statistics show that more than 304,000 students from China studied at US colleges and universities during the 2014-15 academic year, accounting for 31.2 percent of the international students in the country.
A growing middle class at home and US universities' push for global education have contributed to the influx of international students, particularly from China, analysts said.