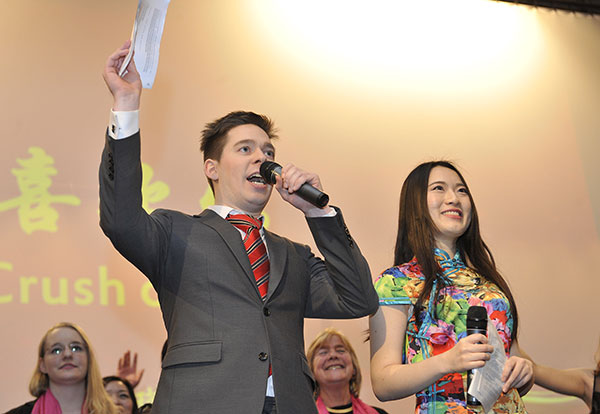 Wang Zhang (right), a student majoring in electronics at Catholic University of Leuven, Belgium, anchors the university's Spring Festival gala. YE PINGFAN/PAN CHAOYUE/WANG LEI/YANG YONGQIAN/XINHUA/CHINA DAILY
However, while US schools go to great lengths to recruit Chinese students, the influx of international students has also left academic institutions unprepared to help the newcomers assimilate in local communities.
A recent study found that nearly 40 percent of international students in the US reported having no close American friends. Moreover, students from China and elsewhere in East Asia said their efforts to fit in at school were, more or less, a struggle.
"When Chinese international students come to my office, one of the very first questions they have - rarely an academic one - is 'how do I make American friends'," said Sebastian Cherng, an assistant professor of international education at New York University.
"It's difficult," he said. "We are a very diverse society, but we are also a very segregated society.
"There are reasons for concern. Take a stroll on the campus on any given day and one can easily sense the nuanced boundaries: most students will be hanging out with schoolmates of their own ethnicity."
Although most US students believe Chinese students are a positive addition, making friends with them is a different matter. For their part, despite all their efforts to mingle, most Chinese students sense an invisible barrier.
"Most Chinese students will actively participate in social networking events, but it is hard to maintain and develop relationships," Ya Lin, an alumnus of Fordham University in New York, said.
Linda, also a Fordham graduate, said it's easy to make the acquaintance of local students, but hard to forge closer ties.
According to Cherng, one reason for that is people's ingrained tendency to seek friends from similar backgrounds.
"Even in places like NYU, which is incredibly diverse, people stick with what they know. Your English sounds different from mine and if I make pop-culture references, you may not understand. We may not watch the same TV shows, we may not like the same food. So it takes a lot of effort to make friends and cross those boundaries."
Cherng believes the onus for crossing those boundaries lies with the US students. "I think Chinese international students are very willing to make that effort, and I think a lot of responsibility needs to be placed on the American students."
He urged universities to offer more programs that facilitate mutual understanding and interaction.