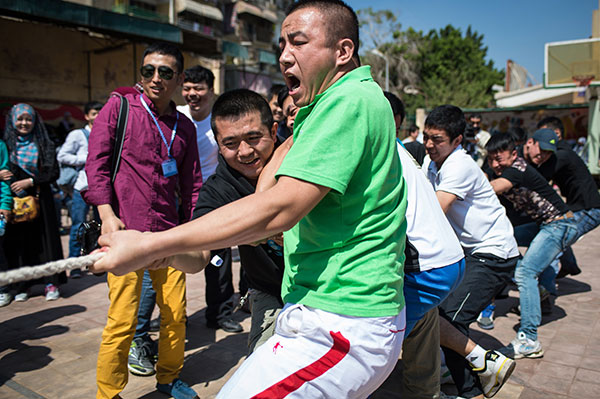 A tug-of-war organized among Chinese students studying in Cairo. YE PINGFAN/PAN CHAOYUE/WANG LEI/YANG YONGQIAN/XINHUA/CHINA DAILY
Peter Kwong, a professor of urban affairs and planning at Hunter College in New York, agreed that universities should make efforts to help foreign students fit in.
"But whether they see that as a priority is a different story. The pressure is not there," he said. "They don't see their responsibility in terms of bridging the cultural gap."
However, change is in the air.
According to Cherng, many universities are expending considerable time and efforts to attract a greater number of international students, and to ensure that they are supported academically.
Jia Wei, an MBA student at NYU's Stern School of Business, told Xinhua: "Stern has a very good orientation program called 'Launch'. During the two-week activity, there is a lot of interaction between us and the other students. That will help us adapt to campus life.
"Meanwhile, we have different societies. I am on the board of the Asian Business Society. We make a 'cultural trek' to Asia every year, and a lot of US students subscribe because they are eager to learn about Asian culture through the program."
Back at NYU, which boasts the highest number of international students in the US, Cherng is working with an international graduate student who is designing and running an Intergroup Dialogue course for undergraduates on the subject of race, immigration and international students.
"Since coming to NYU, I've worked with the Center for Multicultural Education Programs. Part of its mission is to run workshops for both NYU and non-NYU groups that model how to have conversations that are important for both domestic and international students in the US," he said.
"We need to be better; we cannot invite so many international students, but not be trained, and not have a conversation about what it looks like when so many classmates are not from your context, not from your country. We cannot just assume that because we are all in the same place those relationships will happen," he added.
Wang Fan and Yuan Yue are reporters at Xinhua News Agency