Discover mutual interests and get involved
Zhao Xinying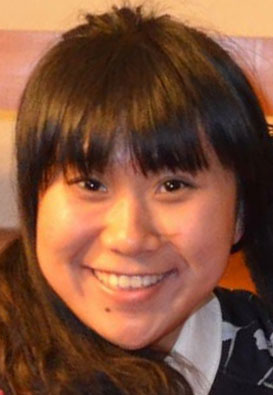 Wang Yu poses for a photo during a party in Bristol in the United Kingdom. CHINA DAILY
Wang Yu is a 25-year-old from Beijing, who is a graduate of Bristol University in southwestern England. She is founder and director of LinkElites, a company based in the United Kingdom that provides services and help to Chinese students studying in the country.
According to my observations, there are generally two situations in which Chinese students may find it difficult to integrate with local students: one is that when Chinese students first arrive in the UK, they can't fully understand what their British classmates are saying, because of their underdeveloped language skills and cultural backgrounds.
The other is that, although they may have basically overcome any linguistic or cultural barriers after living and studying in the country for a period of time, they still have difficulty conversing with their British peers because of a lack of common topics of interest.
For those in the first situation, my suggestion is not to worry about it; just try to become involved in the conversation. When you hear a new cultural term or encounter a confusing cultural phenomenon while in conversation with classmates or friends, you can explain your own interpretation and ask them to correct it. It's a good form of communicating, and will help to improve mutual understanding.
Guidebooks have been compiled for international students. They contain basic introductions to aspects of life and culture in the UK, and it would be very helpful for Chinese students to read one of the guides before arriving, so they will understand the country in an all-around way .
For the second situation, I think you should nurture your own hobbies, which can help to create common topics and trigger conversations. For example, if you are into soccer, there is a high possibility that you will become friends with someone who is also a fan of the team you support. Comm-on hobbies make friendship happen. This doesn't just apply to making friends in China, but also overseas.
Furthermore, you should regularly remind yourself to get out of your comfort zone to integrate well with the local culture. When they arrive, almost all Chinese students who go to study overseas share the same ambition to explore the local culture and make friends with local students. Unfortunately, that ambition may shrink as time goes by, and they may fail a number of times.
Under such circumstances, they should just hold on and come to see a company such as ours that holds training sessions to help improve friend-making skills. They will teach students how to grab people's attention quickly and how to make their conversation attractive to other people.
Wang Yu spoke with China Daily reporter Zhao Xinying