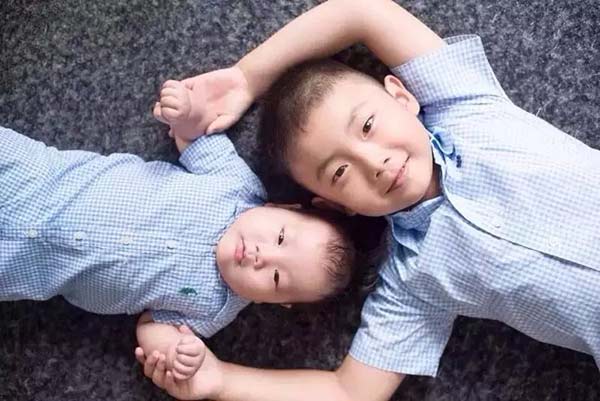 A boy with his younger brother. [Photo by Zhai Xiaoyan/Provided to chinadaily.com.cn]
NANCHANG - China's sperm banks are already facing a dearth of donors, and a government proposal to end the country's decades-old one-child policy may put more pressure on the institutions.
The Communist Party of China Central Committee announced the scrapping of the current one-child policy in a proposal in late October in order to balance population growth and offset the burden of an aging population.
According to a report carried this week by the Jiangxi Daily, a growing number of couples with fertility problems have visited local hospitals and sperm banks for consultations since the policy announcement.
Xue Jie, a head nurse with the reproductive center of the Hospital affiliated with the Nanchang Research Institute of Medical Sciences in Nanchang, capital of east China's Jiangxi Province, said a number of couples have come to talk to her about having a second baby with the help of sperm banks.
"Actually, there has been a rise in the number of infertile couples who come to ask about having a second child since [another] policy change in late 2013," Xue told Xinhua on Sunday.
China introduced its family planning policy in the late 1970s to rein in population growth by limiting most urban couples to one child and most rural couples to two, allowing the birth of a second child if the first child was a girl.
A major policy change at the end of 2013 allowed couples nationwide to have a second child if either parent is an only child. Since then, about 1.45 million Chinese couples, or 13 percent of those eligible, have submitted applications for a second child as of the end of May, according to the National Health and Family Planning Commission.
But the infertility rate is high in China, with statistics released by the China Population Association at the end of 2012 showing 40 million people have fertility issues, accounting for 12.5 percent of the population aged between 20 and 49. Many couples have turned to sperm banks for help.
Meanwhile, sperm banks are dealing with a worsening shortage of healthy sperm, despite repeated efforts to recruit more donors.
In Jiangxi, the sole sperm bank in the province launched in 2013 has only received about 1,400 qualified sperm donors out of more than 6,000 volunteers so far.
"Less than one quarter of donors in the country are qualified," said Zhang Duanjun, a doctor with the Jiangxi Human Sperm Bank.
The current policy limits donors to men between the ages of 22 and 45, and their health records and sperm quality must meet strict requirements before they can be used for artificial insemination.
With the imminent two-child policy, which will be ratified at the annual session of China's top legislature in March, there could be more pressure on the institutions.
Sperm banks in China have tried a variety of tactics to solicit donors.
In September, a sperm bank in Shanghai launched a campaign using the iPhone 6s to attract donors. An ad promised up to 6,000 yuan (941 U.S. dollars) for 17 ml of semen from qualified donors -- just enough to buy the latest Apple model, which cost around 5,288 yuan when it hit stores on the Chinese mainland.
A sperm bank in central China's Hubei Province posted a similar ad online featuring a picture of the new rose gold iPhone 6s, hoping to overcome a shortage in donors.
Experts said more measures are needed to meet the high demand.
"We suggest the government change the age limit to allow more college students to participate, as they already make up the backbone of our donations," said an expert with the Human Sperm Bank of central China's Hubei Province.
Liu Shengshan, a Nanchang-based doctor, said China should improve promotion of sperm donation for better quality of donors.
Tougher measures are also needed to crack down on the underground sperm market, which has profited from the scarcity of donor sperm, experts said.
"We hope that more people will join the cause of sperm donation," said Zhang Duanjun.