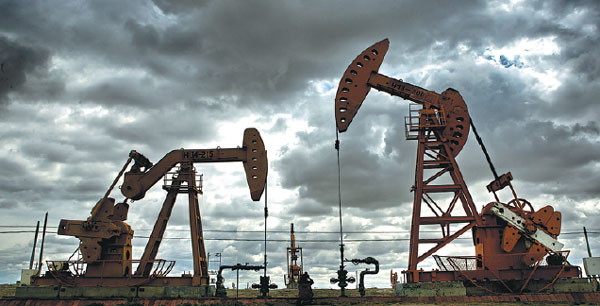 Pumps belonging to Huabei Oilfield Co do their work in the Inner Mongolia autonomous region. Besides oil, the company is also providing natural gas. Liu Xuezhong / For China Daily
Businesses seeking alternatives in new energy as traditional fossil fuels run low
Editor's note: Enterprise transformation has become a hot concern among many entrepreneurs at a time when the country faces the challenge of restructuring its economy. It was an important subject during the annual session of the country's top legislature, which concluded on Wednesday.
Huabei Oilfield Co has the world's deepest gas storage tanks underground and has begun to provide a steady gas supply to the clean-energy thirsty region of Beijing, Tianjin and Hebei province.
It's part of the company's effort to develop new revenue streams, said Huang Gang, an NPC deputy and head of the company, which is headquartered in Cangzhou, Hebei province. It's a branch of domestic energy giant China National Petroleum Corp.
"New-energy resources have become an engine of growth, which is important in light of the complicated situation of a sagging global economy and volatile oil price in recent years," Huang said.
Some oil companies are confronting the challenges of the dwindling nonrenewable resource, looking ahead to a time when oil may be all used up.
Daqing Oilfield, one of the major oil fields in China, has started to taste the bitterness of limited resources.
It had maintained annual production above 50 million metric tons for 27 years, followed by a 12-year period at 40 million tons. But in 2015, annual production was reduced to 38.5 million tons, the first time below 40 million. It expects further cutbacks, to 32 million tons, by 2020, according to a statement.
"Low oil prices in the world have affected Daqing city's economy, which saw GDP declines for the first time," said Lu Hao, an NPC deputy and governor of Heilongjiang, where the oilfield is located. Provincial revenue fell by more than 10 billion yuan ($1.5 billion) last year, Lu said.
Huang, the head of Huabei Oilfield, said, "It's time for oil producers to pursue sustainable growth from other promising sources."
Huabei started to diversify its energy resources during the 12th Five-Year Plan period (2011-15), aiming to make the oilfield a comprehensive energy supplier, he said.
During the transformation process, more has been invested in the new-energy sector, especially in natural gas, from exploration to storage. And over the past five years, sales revenue in new energy has increased from 1.1 billion yuan to 6.1 billion, which has facilitated the oil field's growth in a diversified way, Huang said.
The company has been exploring gas storage since 2011, and holds gas in groups of underground storage tanks in Langfang city, 90 kilometers from Tian'anmen Square, according to the company's statement.
"It began supplying Beijing, Tianjin and Hebei province on March 1, to meet growing regional demand - a result of changes in the consumption of energy for environmental improvement," Huang said.
The tanks currently store 800 million cubic meters, he said, adding that the tanks are located at a depth of 5,000 meters, the deepest in the world.
Gas exploration is the wave of the future, Huang said.
"We will have more opportunities than challenges when facing the new normal of the economy," he said.