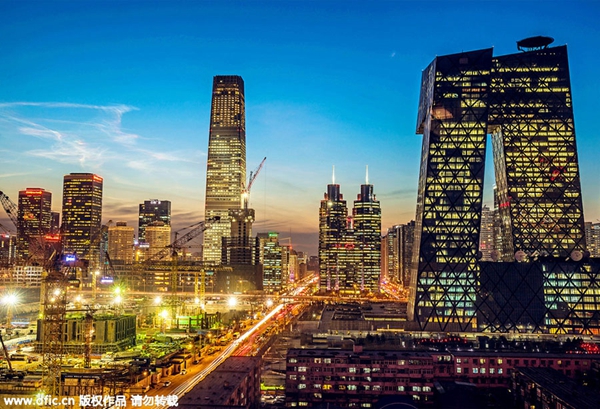 China World Towers and China Central Television building have shaped the skyline of the capital Beijing. [Photo/IC]
A new generation of online home rental companies is rushing into the market with the aim to overturn traditional rules by directly connecting renters and tenants without brokerage fee.
Kuaiyoujia, 107 room, and huoju365, all established in the past three years, have their own websites, apps and public accounts on WeChat, China's most popular mobile social networking platform. Unlike purely online information sharing platforms, these partially open and agent-free information service platforms check and verify the authenticity of the house and the identity of the house seekers before accepting them.
A 28-year-old IT engineer, surnamed Li, sought a new house in Beijing at the beginning of this March, the peak of house renting in big cities as working population returns from hometowns after the Spring Festival.
There are about eight million floating population in Beijing, with the estimated number of house seekers reaching 10 million.
About 100,000 renting trades happen every month, said Niu Huanqiang, a marketing director from Homelink Real Estate Agency Co, China's largest pre-owned home broker.
House seekers use every information available, ranging from friends' introduction, open and free online information sharing platforms such as 58.com and ganji.com, to online and offline property agencies who charge brokerage fee.
Vowing to improve the service that their predecessors lack, the new market players know what renters and tenants care most.
Li heard of 107 room from a friend and became a registered user after the platform verified his work email address.
"107 room is trustworthy and convenience as it introduces the property owner directly to the tenants", Li said.
He does not have to pay a large amount of brokerage fee to property agents but gets no guarantee when things go wrong.
Five years ago, he rented a house from an agent with one monthly rent in brokerage fee and found it leaky after moving into it. He wanted to move out but the agents charged him another two monthly rent in deposit with the excuse that he terminated the contract unilaterally.