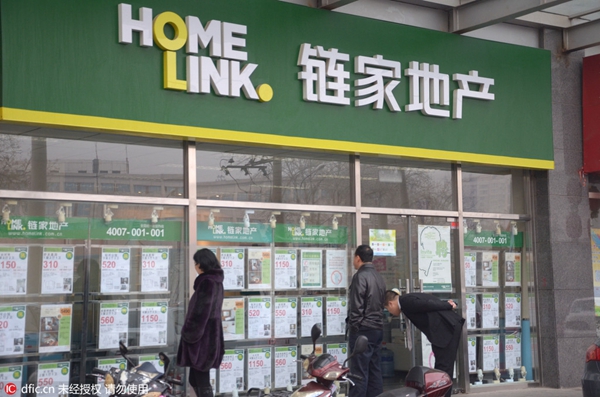 People check home listings at the entrance of a real estate agency in Beijing. [Photo/IC]
Homeowners have their own worries about agencies. They do not want agencies divide too many rooms in one house and stuff 10 people in it, or rent the property to those who cannot afford it.
Renters also feel unjustified for agencies requiring a house vacancy period of about 45 days, during which the owner gains no yield no matter the house is rented out or not.
The stories of some agents deceiving both renters and tenants have been extensively reported in media, which reveals the weakness in regulating the real estate agents.
According to the list of top 10 property agencies receiving most complaints, which is issued monthly by Beijing Municipal Commission of Housing and Urban-Rural Development, the majority of complaints come from house renting sector concerning mostly illegal partition, refusal to give back deposit, and contract termination.
Some agencies' deceptive measures develop from offline to online. The problem of property agencies' posting false information online is still rampant, said Zuo Hui, chairman of Homelink in an interview in 2012.
According to a report from China National Radio in January, about 80 percent of information is false in the house renting market.
The potential demand for a safe, transparent and fair house renting platform is strong and some entrepreneurs see the trend.