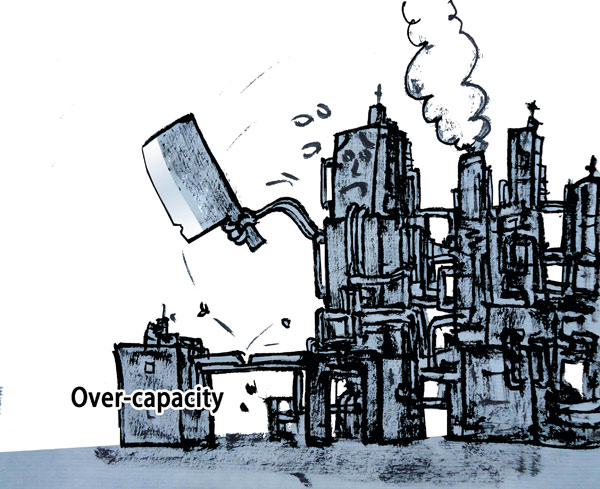 As overproducing and unprofitable businesses in the ship building, mining, steel and cement industries are forced to close or downsize, employees come to terms with the change and look toward the future. Xinhua News Agency and Du Juan report.
After a career spent building and repairing ships, Bao Hongyi (a pseudonym) never expected the shipping industry to sink so fast.
A month ago, the State-owned Wuzhou Shipyard, where 48-year-old Bao began work as a technician in 2001, filed for bankruptcy.
"I used to think that day would never come to a State-owned company," said Bao as he sadly surveyed the shipyard on Wukuishan Island, in Zhoushan city within East China's Zhejiang province.
Wuzhou Shipyard is one of the scores of so-called "zombie companies" that are economically inviable and which China has decided to phase out.
Pulling the plug on such enterprises became a priority when Premier Li Keqiang delivered the government work report on March 5 and explained why it is no longer in China's interests to subsidize poor performers.
Zombie companies are economically inviable businesses, often in industries that have severe overcapacity, and have been kept alive long after they should have died thanks to money poured in by governments and banks.
Local authorities and financial institutions typically propped up such industries to protect local economies and jobs.
In addition to the shipbuilding sector where Bao worked, other industries undergoing massive change include steel, coal and cement, where there have been heavy financial losses in recent years because of huge overcapacity.
China's producer price index, a weighted listing of prices measured at the wholesale or producer level, fell for 47 months, largely because of the unsustainable situation.
Bao said things at Wuzhou Shipyard started to go sour during the global financial crisis of 2008.
"At its peak, in around 2007, there were so many-more than 3,000-employees working here that there were not enough dormitories to house them all," recalled Bao.
But shipbuilding started its downward spiral when shipping rates fell during the global recession. A 64,000-metric-ton bulk carrier that would have once sold for 320 million yuan ($48 million) now has a price tag of 120 million yuan.