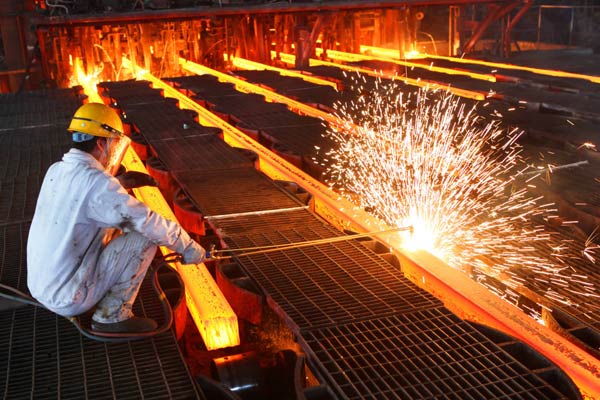 A worker cuts steel bars on the production line of a mill in Lianyungang, Jiangsu province. [Si Wei/For China Daily]
With shipbuilding facing such pressure, by the end of September, Wuzhou Shipyard had amassed debts of 911 million yuan against total assets of 534 million yuan.
It cut jobs, but there were still enough orders and money coming in from its parent company, the State-owned Zhejiang Shipping, to keep things limping on for a few months. In the end, though, despite still having some orders on the books, it was just too expensive to keep the factory gates open.
"The original plan was to shut down production after completing unfinished ships, which would have helped pay off some debts," said Han Jun, a lawyer and trustee in the shipyard's bankruptcy. "But the shipping industry just didn't recover, and we were worried the ships would never be sold."
Zhejiang Shipping eventually cut Wuzhou Shipyard loose-partly because it was a drain on finances, but also because the central authorities in Beijing had decided that it was time to be tough on such zombie companies.
Government officials noted that the vast sums of money flowing into zombie companies could be better spent funding innovators and other businesses with a promising future and on retraining and reemploying workers.
In South China's Guangdong province, the country's manufacturing powerhouse, authorities announced they would close all zombie companies within three years. The local government and other agencies there are working flat out trying to help the new hoards of jobless.
Another industry facing up to reducing production or going bankrupt is iron ore mining, which has been hit hard by cheap imports and shrinking demand ever since 2012, when the economy slowed.
"Domestic iron ore mines have much higher production costs compared to the world's top mining giants, which have been pouring their products into China's steel mills," said Du Cheng, an analyst at JYD Online Corp, a Beijing-based bulk commodity consultancy company.
He said a large number of iron ore mines in Hebei and Shandong provinces had slashed production during the past year.
"A large-scale mine in Anhui province produced 2.22 million tons of iron ore in 2015," Du said. "That company lost 120 yuan, on average, for every ton of production, which means it was more economical to cut down on production."
But Du said slashing production would have meant massive job losses and the local economy was not yet ready for so much pain.