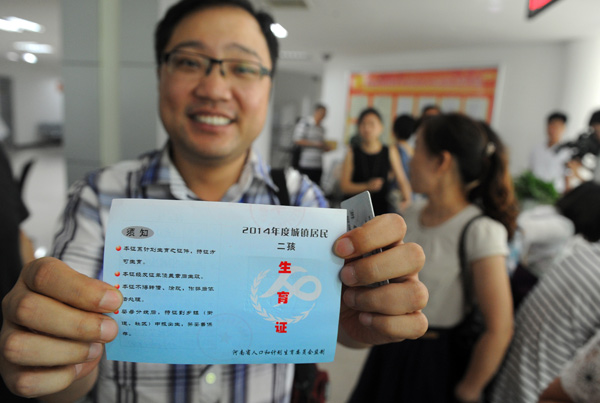 A man displays a birth permit for a second child he just received in Zhengzhou, Henan province on June 17,2014.[Photo/CFP] 
A mother in Zhengzhou, central China's Henan province, has been told to return her one-child policy bonus after applying for a permit to have a second child, the People's Daily reported on Tuesday in the latest example of conflict between local and national rules.
Zheng Yan, whose daughter is four, was quoted by the newspaper as saying that she would have to return 1,000 yuan ($162.82) received over the past four years before getting the permit.
Parents complying with China's one-child policy are awarded a "parents of one-child honor certificate" and can enjoy bonuses until their child reaches 14.
China amended its one-child policy in December last year to allow couples to have a second baby if either parent is an only child.
The National Health and Family Planning Commission (NHFPC) also revised its regulations in January, according to which parents applying to have a second-child will no longer enjoy one-child bonuses, but they don't have to refund money already received.
Health and family planning authorities in Henan insist such bonuses must be forfeited, conflicting with national regulations.
Henan authorities say NHFPC regulations only serve as guidance and situations can vary in various regions.
The story was a hot topic on China's Weibo social media forum with many questioning whether Henan's decision is legal.
"China is promoting rule of law now and officials need to first have a 'mind of law,'" one commented.

"If local authorities ask the mother to refund the bonus, they should also return money to parents fined for having a second child," another said.