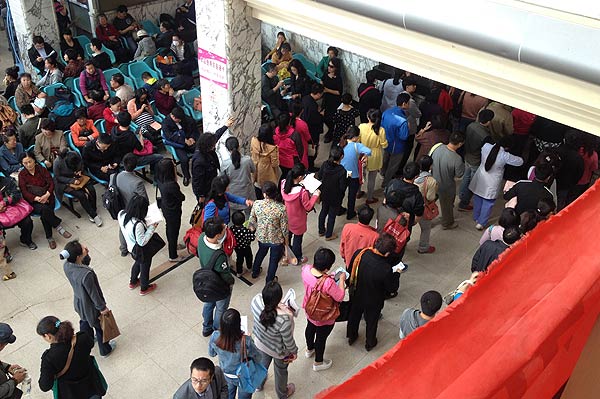 People queue up to register at the Beijing Obstetrics and Gynecology Hospital, April 22. [Photo/chinadaily.com.cn]
BEIJING - Twenty-nine of 31 provincial regions in the Chinese mainland have relaxed the decades-old one-child policy, allowing couples to have a second baby if either parent is an only child, said a senior family planning official on Thursday.
East China's Zhejiang Province took the lead to green-light the relaxed policy on Jan. 17 this year, while Xinjiang and Tibet have not made the move yet, Yang Wenzhuang, an official with the National Health and Family Planning Commission, said at a press conference.
As of the end of May this year, about 271,600 couples have applied to give birth to a second child, with 241,300 of them having been approved, according to Yang.
Last December, the Standing Committee of the National People's Congress, China's top legislature, adopted the policy and entrusted provincial congresses and their standing committees to make their own calls on implementation.
The move followed steadily declining birth rates and changing demographics that reduce the working population.
Yang dismissed worries that the new policy would bring about a baby boom.
China has more than 11 million couples eligible to have a second child under the new policy and about 60 percent of them are willing to give birth a second time, according to a poll conducted by the commission last year.
"According to our estimation, there will be an additional two million babies a year in the next five years or even a longer period of time," Yang said.
At present, the government policy's influence on people's willingness to give birth is dropping, and their child-bearing behavior could also be impacted by their first child's will, the mother's age and career prospects, and their housing and financial conditions, he added.
The official said, however, that the government will fine-tune the family planning policy based on changes in the country's demographic and economic situation, but "there is no timetable for allowing every couple to have a second child."
China has about 150 million couples with only one child. There will be about 90 million more babies if 70 percent of them give birth to another kid, according to Yang.
"China's birth level could see a major relapse if every couple are allowed to have a second child," he said. "The population growth will have a big impact on social and economic development."
The basic family planning principle has not changed as China is still the world's most populous country, Yang added.
China's family planning policy, put in place in the late 1970s, is designed to curb population growth.
There have always been several exceptions to the rules. A couple could have two children if neither parent had siblings or if either comes from an ethnic minority. Rural couples could apply to have a second child if their first was a daughter.