GUANGZHOU - Zhang Cuiqiong, 46, who has worked as a midwife for more than 20 years, is gearing up for the busiest year ever, as China's relaxation of its one-child policy will intensify an already severe midwife shortage.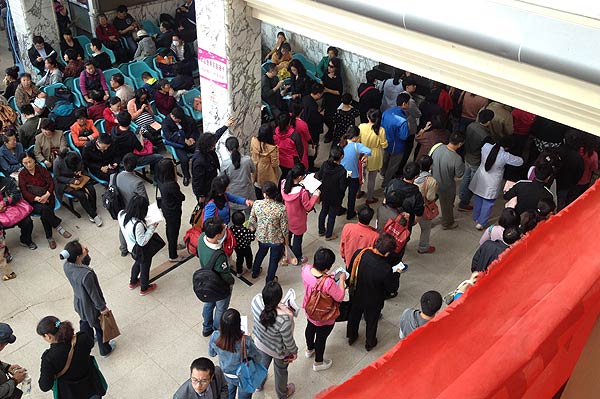 People queue up to register at the Beijing Obstetrics and Gynecology Hospital, April 22. [Photo/chinadaily.com.cn]
"I have seen a midwife help deliver 22 newborns in one single day in my hospital. And the record will surely be broken soon," said Zhang, who serves at the Second People's Hospital of Guangdong in south China.
Guangdong province is expected to see a big baby boom after relaxing its birth control policy in late March to allow couples to have a second baby if either parent is an only child.
With a population of more than 100 million, Guangdong tops the country's most populous provinces. About 150,000 households in Guangdong are qualified to have a second child.
It is forecast that Guangdong will see the number of babies born increase by 10,000 to 15,000 in 2014.
"The years 2015 and 2016 will be the peak of the baby boom, with an increase of about 70,000 and 89,000 newborns respectively, " said Chen Yiping, deputy director with the Guangdong Provincial Health and Family Planning Commission.
The increase will become more evident year by year and reach 70,000 in 2018, Chen said.
China's family planning policy was first introduced in the late 1970s to rein in the surging population by limiting most urban couples to one child and most rural couples to two children, if the first born was a girl.
In November last year, the Communist Party of China decided the country would loosen its decades-long one-child policy, allowing couples to have two children if one of the parents is an only child.
EXTREME SHORTAGE
Midwives provide care to women during pregnancy and birth. They are trained to deal with the delivery process and to intervene in high-risk situations. Without them, women in labor would face more danger.
It is estimated that the midwife gap in China is 800,000, compared with the ratio of 1,000 fertile women to one midwife in developed countries, according to the National Health and Family Planning Commission.
Statistics from the commission showed that among 16 million newborns born every year in China, 160,000 died, and an additional 5,000 mothers-to-be died during delivery.
"If a woman can receive care provided by professional midwives and proper treatment in emergency situations, the death rate would be reduced by 75 percent," said Lai Xuemei, matron of the Obstetrical Department of the First Affiliated Hospital of Jinan University in Guangzhou.
"A midwife's company is especially important for women who are delivering their second baby," she said.
It is popular for women to give birth to their first child by Caesarean section, so they face a higher risk of hemorrhage when delivering their second baby, she added.