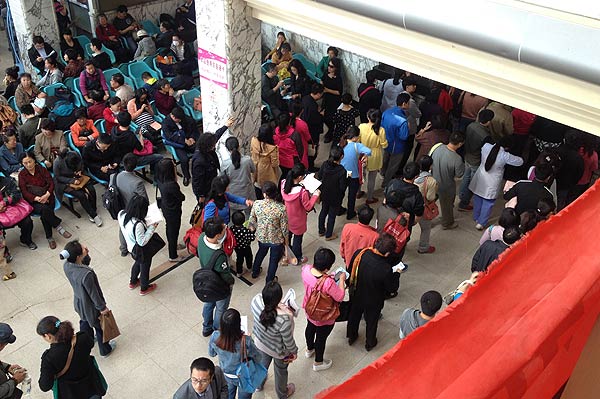 People queue up to register at the Beijing Obstetrics and Gynecology Hospital, April 22.  [Photo/chinadaily.com.cn] 
A leading obstetrician in Beijing has offered various reasons for the heavy workload of China's healthcare workers, such as the fact that an increasing number of Chinese women – especially working women in cities - give birth to babies at a later age.
Wang Qi of the Beijing Obstetrics and Gynecology Hospital, said statistics show women in rural areas give birth at the average age of 25 or 26, while urban women give birth at the average age of 28 or 29.

Wang Qi 
Wang also said the risks of health problems for pregnant women – including pregnancy associated with diabetes, obesity, infertility and high blood pressure – increase according to the age of the woman. This trend may lead to adverse pregnancy outcomes and obviously presents extra work for the doctors.
Wang usually receives 70 to 90 pregnant women during her working hours from 8:00 am to 12:00 am, while her counterparts, for example, usually see a maximum of about 10 to 20.
The recent relaxation of the one-child policy, which means that more couples can have a second child, also increases the workload and puts pressure on resources.
"Among the pregnant women I have received recently, about 10% to 20% are having a second child," said Wang.
She also called on the government to improve the training of obstetricians and midwives and provide more resources and other technical support for hospitals, which are often overcrowded with mothers-to-be.
She said it takes time to train new doctors - and pregnant women are becoming more assertive and demanding various procedures.
About 47 percent of all babies in China are delivered by C-section, representing the highest rate for the procedure worldwide. However, health authorities require hospitals to restrict the number of C-sections and promote vaginal deliveries.
Wang said that although she supports vaginal delivery, the fact is that hospitals do not have enough experienced staff. The rate between pregnant women to perinatal medical workers in China also falls behind the level in foreign countries.
"C-sections take much less time, doctors often have to face a dilemma in this matter," she said.