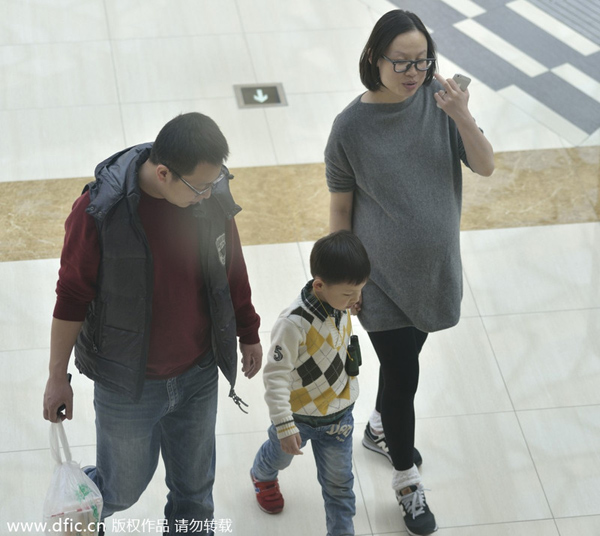 A couple, along with their child, is pictured in this March 9 photo in a shopping mall in Shanghai. The mother is apparently expecting the family's 2nd baby. [Photo/icpress]
CHONGQING -- Southwest China's Chongqing Municipality Wednesday relaxed the city's one-child policy by allowing couples to have a second baby if either parent is an only child, the local legislature said at a press conference.
An amendment to the city's Municipal Population and Family Planing Regulations was approved at a meeting of the Standing Committee of the Chongqing Municipal People's Congress, according to Lan Yunhua, head of the Committee of Education, Science, Culture and Health under the Chongqing Municipal People's Congress.  

Lan said couples wishing to have a second baby should meet certain conditions. For example, the time interval between the birth of the first child and the second should be three years if the wife is under 28 years old.
It is estimated that about 45,000 newborns are added to Chongqing's population annually. And the proportion of teenagers in the total population is likely to be increased by 1.5 percentage points by 2030, said Wang Wei, deputy director of the Chongqing Municipal Commission of Health and Family Planning.

"But this does not mean we are giving up on the birth control policy. We are just adopting a different approach, since China's large population still pose pressures on economic and social progress, resources and environments," Wang said.
China's family planning policy, put in place in the late 1970s, is designed to curb population growth. It has been widely credited with contributing to the country's rising prosperity.
Besides Chongqing, the municipalities of Beijing, Tianjin and Shanghai as well as the provinces of Zhejiang, Jiangxi, Anhui and Sichuan have also already changed their policies.