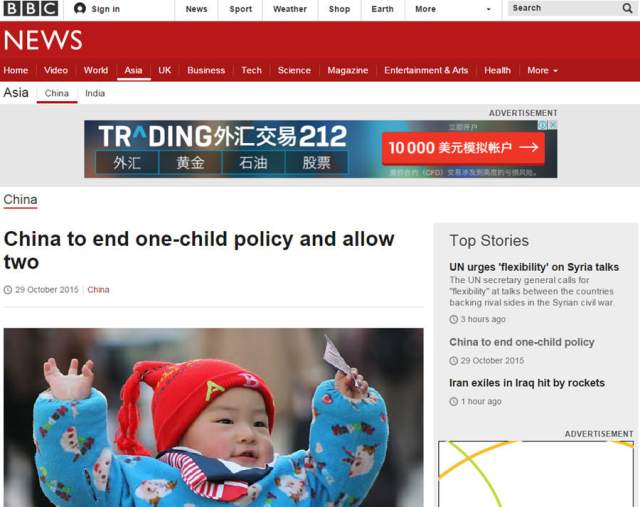 Screenshot of BBC's report
BEIJING - China's decision to abandon the decades-long one-child policy has drawn significant attention from media outlets worldwide.
BBC said couples will now be allowed to have two children, citing report from China's official Xinhua News Agency.
The decision to allow families to have two children was designed "to improve the balanced development of population" and to deal with an aging population, according to a statement from the Communist Party's Central Committee carried by Xinhua on Thursday, BBC said.
BBC also noted that the party began formally relaxing national rules two years ago, allowing couples to have a second child if at least one of the pair is an only child.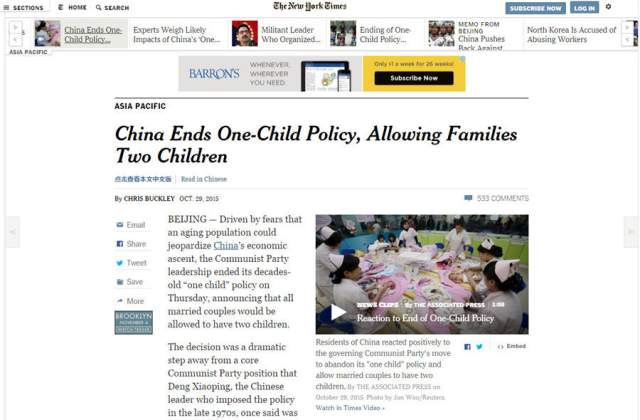 Screenshot of The New York Times' report
The New York Times (NYT) described it as a "dramatic" step away from a core Communist Party position that former Chinese leader Deng Xiaoping once said was need to ensure that the "fruits of economic growth are not devoured by population growth".
The article also cited the statement issued after a party meeting as saying that abolishing the one-child policy would increase labor supply, ease pressures from an aging population and will benefit sustained and healthy economic development.
Besides, the NYT article quoted experts as saying that the cost and difficulty of child-rearing are likely to deter many eligible couples from having two children despite the relaxed rules.