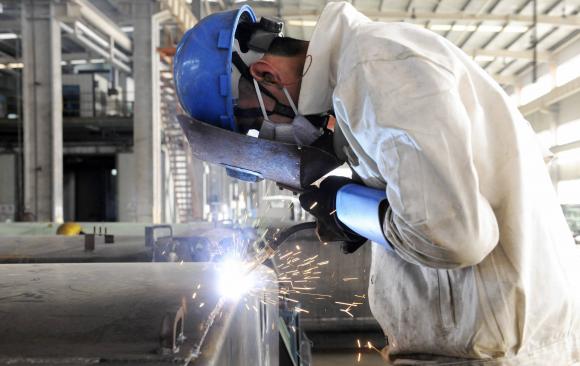 An employee welds the exterior of a vehicle along a production line at a factory in Qingdao, Shandong province Dec 1, 2014. [Photo/Agencies]
China aims to maintain a mid to high-level economic growth rate in the next five years and significantly increase consumption's contribution to the economy, a communique from the Communist Party of China Central Committee said on Thursday, setting the tone for China's economic reforms to 2020.
The goals will be crucial to ensure the country fulfills its target of becoming a "well-off society", which refers to doubling the gross domestic product and per capita income of urban and rural residents by 2020, from the 2010 level.
In 2010, the per capita disposable income of urban residents was 19,109 yuan ($3,000) and that of rural residents was 5,919 yuan, according to the National Bureau of Statistics.
The four-day plenum of the CPC Central Committee provided the broadest proposals for the 13th Five-Year Plan (2016-20) but an official announcement will be made in March after the plan is ratified by the annual session of the National People's Congress, China's top legislature.
Zhang Jianping, director of the International Economic Cooperation Institute of the National Development and Reform Commission, said the proposal indicated leaders have reached a consensus that China's economy is capable of keeping its growth momentum at medium to high speed.
"Economic transformation and restructuring cannot be ensured without sufficient growth, while a very ambitious target is unlikely, taking into account the downward pressure and rising costs," said Zhang.
Leaders also stressed "significantly" increasing the share of consumption to GDP as the country is stepping up transition from an export and investment-driven economy to a consumption-driven one. In 2014, consumption accounted for 51.2 percent of GDP.
Ma Jun, chief economist of the People's Bank of China's research bureau, said the service sector and green industry will become the major drivers propping up China's growth.
The growth of industries including e-commerce, medical and health, environmental protection, new energy, tourism and entertainment all outpaced China's overall growth, becoming the new indicators that should be closely watched.
At the same time, old economic indicators such as coal prices, electricity consumption and cargo volume have gradually lost their significance as they are closely related to the declining high-polluting and energy-guzzling industries.
Recently, economists widely agreed that China's GDP has to maintain growth of 6.5 percent during the 13th Five-Year Plan to realize the GDP and income goals. The target will be announced in March.
Guan Qingyou, chief economist of Minsheng Securities, said the government has never missed its economic growth goal and policymakers usually leave some leeway when setting the growth goal.
The proposal also mentioned making new contributions to global ecological security by sticking to green development. It vows to stick to the basic policies of resource conservation and environmental protection, building a highly efficient modern energy system and promoting demonstration projects for zero emissions.
Dennis Pamlin, founder of 21st Century Frontiers, a consultancy based in Sweden, said it is encouraging to see that the environment has really been embedded into China's economic planning.
"It's a very encouraging thing. Now it's not something stopping development, but something encouraging development," he said.