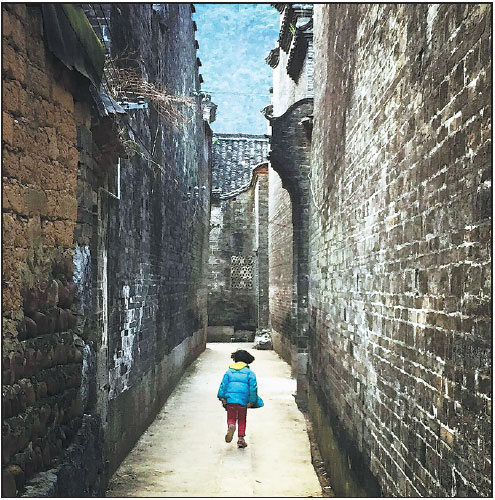 Langshi village in Guilin city features Qing Dynasty residential houses and beautiful landscape along the Lijiang River.
Dwelling built during the Qing Dynasty and refurbished by expats is now a vacation rental
When Dutch national Maarten Dickinson first laid eyes upon Langshi village, in the Guangxi Zhuang autonomous region, he instantly fell in love with its Qing Dynasty (1644-1911) cottages and dramatic karst landscape.
"The village had a beautiful harmony of friendly people, traditional houses and amazing scenery along the Lijiang River, making me love the place at first sight," he said.
It was 2012 when Dickinson first saw Langshi, and the following year he returned with an acquaintance from the United States Eric J. Weiland, who he had met in Shanghai just two weeks before.
"Eric and I both had a good feeling about the idea of leaving Shanghai and moving to rural China - we just wanted to experience a more authentic part of the country, as I believe most of China's beauty still lies in the countryside," Dickinson said.
Using the Mandarin he had learned at Fudan University in Shanghai, Dickinson managed to rent a house in the village for a good price.
He was planning to open a retreat for artists and writers to enjoy the peaceful surroundings, but eventually settled upon turning the place into a guesthouse.
"It just happened, like a gift," Weiland said. "Neither Maarten nor I had any renovation experience, so it was time-consuming work - but we got on well with the locals."
For seven months, the expats carried supplies to and from the village as they worked on repairing the house. At first, the local farmers didn't understand why they were spending so much time and money on the renovations, but as the months wore on they began to see a transformation take place.
One day, while Dickinson focused on his work, Su Haibo, a native of the village, appeared at his side and said the one word in English he knew: "Beautiful."
Su, who had served as the village doctor since graduating from a medical school in 2003, was impressed with the work the two had done.
He offered to help and Dickinson, in turn, offered to teach him English.
"We were exhausted but every day he was fresh and ready to study. We became good friends and he taught me Chinese and the local culture," Dickinson said.
After 18 months of study, Su's English had advanced to the point that Dickinson and Weiland felt comfortable enough to offer him the job of host at the newly opened guesthouse.
Named "Laojia", it has become available for bookings on the vacation homes listing website Airbnb since last year.
More than 300 guests from 100 countries have visited so far, experiencing what made Dickinson fall in love with the place four years ago.
Domenic, a 20-year-old from Canada who declined to give his surname, had the opportunity to climb a hill with Su's mother and feed the family's goats.
"It's really impressed me to be able to get so close to the local people, see exactly how they make a living and feel totally engaged with their daily lives," he said.
For Dickinson, this is what Laojia is all about.
"I believe tourism is at its best in a natural setting, where people can totally be themselves," he said.
"We foster activities between guests and locals creating meaningful experiences for both sides without being too commercial or arranged."
Now that Su is in charge of the day-to-day running of Laojia, Dickinson and Weiland have time to look for more villages where similar houses can be revived.
"By having outsiders come and stay in these old houses, locals start to appreciate them more, which is a great way of keeping these parts of the local culture alive instead of knocking them down", Dickinson said.
zhangli@chinadaily.com.cn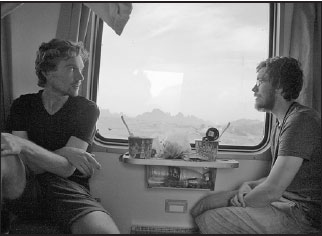 Maarten Dickinson (left) and Eric J Weiland on the train to Guilin, the Guangxi Zhuang autonomous region.Photos Provided To China Daily