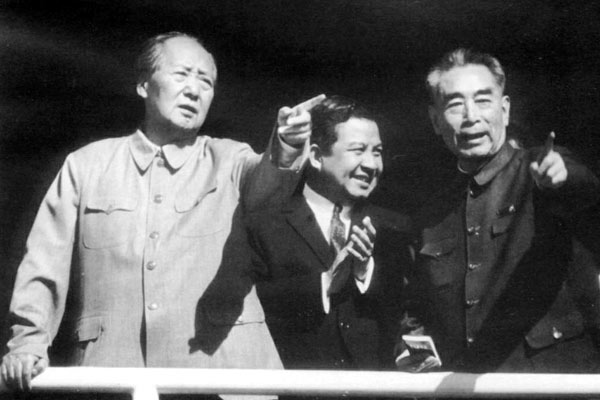 Chairman Mao Zedong, Premier Zhou Enlai and Norodom Sihanouk, then a Cambodian prince who later became king, look out from the Tian'anmen rostrum in May 1970. [Photo provided to China]
China cherishes its special friendship with the Cambodian royal family and places great value on developing bilateral relations, President Xi Jinping said on Thursday.
"China will always be Cambodia's good partner and friend," he told Cambodian King Norodom Sihamoni in Phnom Penh on Thursday after arriving for his first visit to the country as president.
Xi was welcomed by more than 10,000 people who gathered outside the palace square, waving national flags, carrying leaders' portraits and bouquets. Sihamoni held a grand welcoming ceremony for Xi.
The traditional friendship between China and Cambodia was forged and cultivated by previous generations of Chinese leaders and the late Cambodian King Norodom Sihanouk, Xi said at the meeting.
Sihanouk, who was deeply respected by the Chinese people, left an indelible mark on the history of the bilateral relationship, he added.
Sihanouk lived in China for nearly 40 years before dying in Beijing in 2012. Miss China and China, My Second Homeland are among the songs that he composed to praise the friendship between China and Cambodia.
He also played a key role in the establishment of diplomatic relations between China and Cambodia in 1958.
China is willing to steadfastly carry forward the friendship with Cambodia, and deepen bilateral cooperation to bring more benefits to the people of both countries, Xi said.
Sihamoni expressed thanks to the Chinese government and people for their long-term affection for the Cambodian royal family, as well as strong support for the country's economic development.
He said he believes that Xi's visit will deepen the already good relationship between the two countries and lead to greater achievements in China-Cambodia cooperation.
After the meeting, Xi, accompanied by Queen Mother Norodom Monineath Sihanouk, presented a flower basket at the memorial statue of the late king.
Song Yinghui, a researcher in Southeast Asian studies at the China Institutes of Contemporary International Relations, said Xi's meeting with Sihamoni, the first thing on the agenda after his arrival, shows respect for the royal family and China's determination to develop China-Cambodia friendship.
"Represented by Sihanouk, the Cambodian royal family has made great contributions to the two countries' cooperation," she said.
Bu Jianguo, former Chinese ambassador to Cambodia, said: "Sihanouk himself is a banner of the friendly relations between China and Cambodia."
According to Song, Sihamoni, who inherited the legacy of friendship from his father, also helped to lay a good foundation for bilateral cooperation.
Xi's visit, reciprocating Sihamoni's trip to China in June, is likely to bring the two countries closer and yield fruitful results, Bu said.
"Sihamoni and Monineath are also frequent visitors to China, as they come to China twice every year, and stay about one month every time for physical examinations and recreation," she said.
mojingxi@chinadaily.com.cn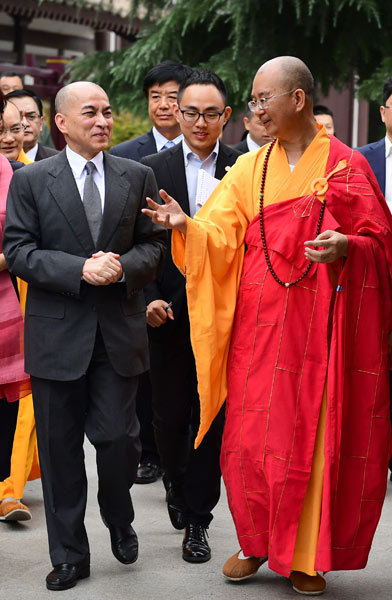 During an Aug 4 visit to Famen Temple in Baoji, Shaanxi province, Cambodian King Norodom Sihamoni (left) speaks with Abbot Xuecheng. [Photo/Xinhua]