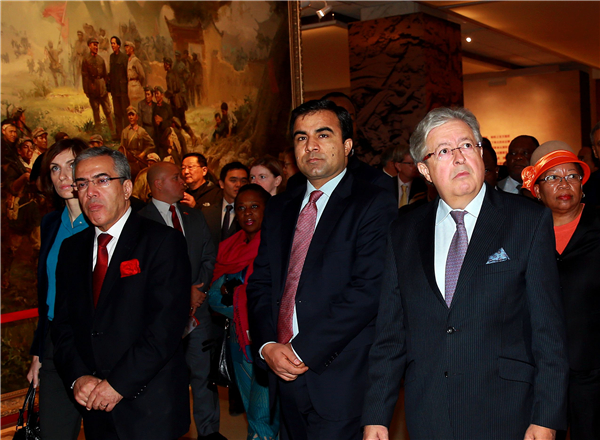 Algerian Ambassador to China Ahcene Boukhelfa (from left), Afghan Ambassador Janan Mosazai and Swiss Ambassador Jean-Jacques de Dardel visit the Long March exhibit at the China People's Revolution Military Museum.[Photo by ZOU HONG/CHINA DAILY]
Fancy a Kindle? Take the Long March quiz
General Abdoulaye Fall, Senegal's ambassador to China, said visiting the ongoing Long March exhibition at the China People's Revolution Military Museum on Sunday takes him back in time.
That is, not only to the Red Army's implausible strategic retreat from Kuomintang forces 80 years ago that eventually led to victory, but also to his own experience of four decades in his homeland's military.
"This was very moving for me because it reminds me of some parts of my own history, (events) I was myself involved in during different periods of my military career," Fall said.
Compatriot Christelle Mbaya, who works as a journalist in China, said she also saw reflections of Senegal.
"We understand more because of the exhibitions. We didn't really know what these soldiers were going through. They gave all they had to win. Despite conditions that weren't very good, they made it."
Fall and Mbaya were among hundreds of people from over 90 countries, including 35 diplomats and 95 foreign experts, who visited the exhibit on Sunday.
It celebrates the Red Army's 9,000-kilometer trek across treacherous terrain over more than a year.
Only a tenth of those who set out survived, but the Communist Party of China went on to defeat the Kuomintang and found New China in 1949.
The foreign visitors said they were impressed by paintings and sculptures, and actual items, including weapons, blankets and a half-eaten belt.
"It's a mixture of mediums, so it tells the whole story," said Mohamed Faisal, Maldivian ambassador to China.
"This (history) shouldn't be lost-for the whole world. It shows that despite struggles, if you believe in something, you need to fight for it. If you fight for it, the future will be bright."
Thit Linn Ohn, ambassador of Myanmar, said the displays make the history more realistic.
"I already knew some things before, so I like to compare my knowledge to this display to get some information I've never heard from books or other museums," he said.
"The Long March of the Red Army is famous not only in China but also the world."