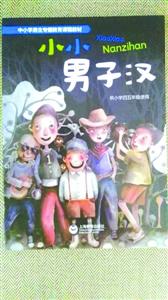 Cover of the textbook. [Photo from web]
Discovering different aspects of gender is part of a teenager's growth. Boys in Shanghai are lucky that they will now have a better and appropriate understanding as the first textbook on gender education in China has been published recently, according to local media in Shanghai.
The textbook is designed for elementary students of grade four and five to help them acquire knowledge about physiology and psychology as well as self-protection and self-esteem. Instead of coming out with a textbook, the publishers have opted for picture book to help the students of that age understand the concepts easily.
The editor-in-chief is You Rui, a headmaster of a primary school in Jing'an district of Shanghai. The textbook resulted from a special course on masculinity called "father and son" taught at the primary school.
With cooperation with experts on psychological health in Jing'an district, some topics from the course and discussions in class were presented with pictures in the textbook.
"The textbook is not academic; rather, it is designed to be entertaining to help the boys understand the meaning of responsibility," said You. "It's the first step to teach them how to be a man."
You also disclosed that a textbook on gender education for girls is also on the way.