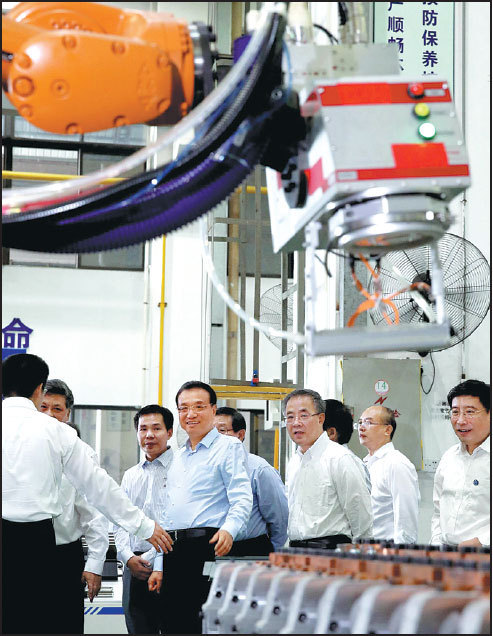 Premier Li Keqiang inspects Han's Laser Technology Industry Group Co in Shenzhen, Guangdong province, on Thursday. The company, a leading global manufacturer of laser equipment, is one of China's flagship high-tech companies. Li said such companies show how Chinese manufacturing can be upgraded.Wu Zhiyi / China Daily
Premier links cutting-edge work to success of 'Made in China 2025'
In a noisy workshop, laser machines roared and shot out sparks as they cut metals into different shapes. Chinese characters for "Made in China 2025" were prepared this way for Premier Li Keqiang's visit.
The premier showed great enthusiasm about the high-tech equipment manufacturing during a half-day tour focusing on the transformation and upgrading of China's manufacturing sector in Guangdong province.
Li's visit encouraged more corporate efforts as the central government promotes the strategy "Made in China 2025" to maintain and increase the competitiveness of the manufacturing sector.
The scene occurred on Thursday morning as the premier visited Han's Laser Technology Industry Group Co, a leading maker of factory machines that employ lasers in the industrial hub of Shenzhen.
Li paused more than 10 times in the workshop, which is rare for him when inspecting a domestic manufacturing company. He asked questions about every piece of equipment, and the company's research, design and potential customers.
Before that, the premier also visited a mobile phone manufacturer - Oppo Mobile Co - in Dongguan, a city near Shenzhen that made its reputation as a pillar of traditional manufacturing and is having some difficulties as it makes changes amid a decline in low-cost, low-technology processing.
The two companies represent two major subareas of China's manufacturing sector, especially when the country's exports are facing hard times and dropped to a seven-month low in September, the General Administration of Customs said.
As the world economy is recovering sluggishly with diminishing international trade, China's manufacturing sector faces challenges from developed and developing economies, said Ma Baocheng, director of the Decision-Making and Consultation Department of the Chinese Academy of Governance.
At Han's Laser, Li said the equipment that employs lasers demonstrated the path and hope for China's manufacturing sector. A key to "Made in China 2025" is to transform and upgrade the country's manufacturing sector by introducing new technologies, he said.
Gao Yunfeng, chairman and general manager of Han's Laser, said the company has a number of unique and patented laser technologies and produces the largest amount of equipment using lasers for world-renowned companies such as the Apple Inc.
Oppo used to manufacture music players but now exports mobile phones to 19 countries and regions with the fourth-largest number of phones being produced annually in the world.
"In the future, you have to promote more effective marketing campaigns to meet and lead consumers' demand like what foreign phone makers have done," Li said.
Dongguan's officials said the traditional manufacturing of clothing dropped by 15 percent from last year while new industries such as high-end electronics increased by more than 20 percent.
huyongqi@chinadaily.com.cn