Take a glimpse into soccer-related gifts of Xi
Editor's note: President Xi Jinping described himself as a soccer fan in a speech to the Senate during his state visit to Mexico in 2013. "I'm a soccer fan. The Chinese soccer team has always worked hard, but has made it to the World Cup finals only once. "
Xi's love of the game has seen him receive a large number of jerseys and soccer balls as gifts from governments across the world. Here we have a look at Xi's collection of football-related gifts.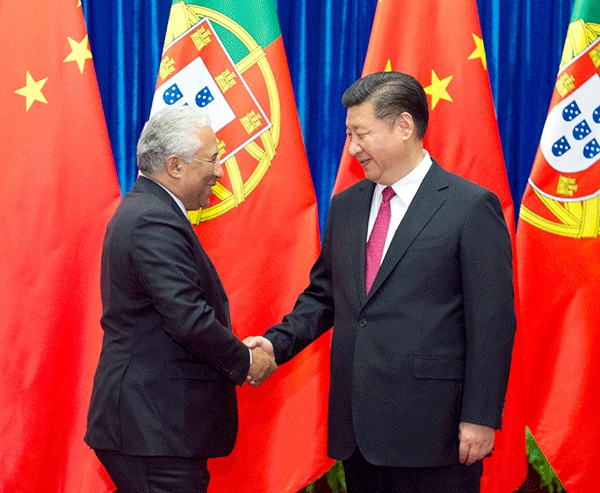 Chinese President Xi Jinping (R) meets Portuguese Prime Minister Antonio Costa in Beijing, Oct 8, 2016. [Photo/Xinhua]
Gift from European champion
"I have a secret that I have never told media before. I brought a football signed by all players who won the European Cup for Portugal this year. I want to give it to President Xi Jinping, who, as far as I know, is a football fan," said Portuguese Prime Minister Antonio Costa after he met Xi at the Great Hall of the People in Beijing on Oct 8.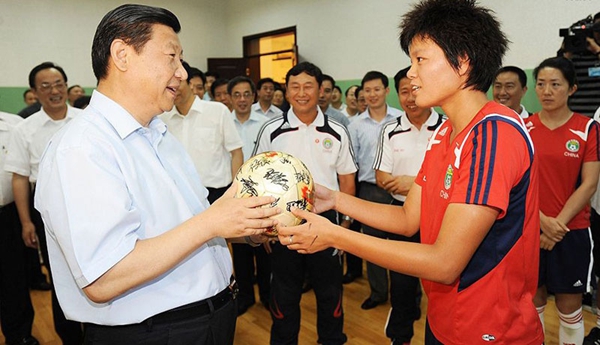 Xi Jinping receives a soccer ball signed by the Chinese women's team at their training base in Qinhuangdao, Hebei province. [Photo/Xinhua]
Chinese women's soccer team
In July 2008, the then vice-president Xi Jinping inspected the preparatory work of the 2008 Beijing Olympic Games soccer competition in Qinhuangdao, North China's Hebei province. When he heard that the national women's team was training there, Xi paid a visit to them. The team gave him a soccer ball and a jersey signed by all the players.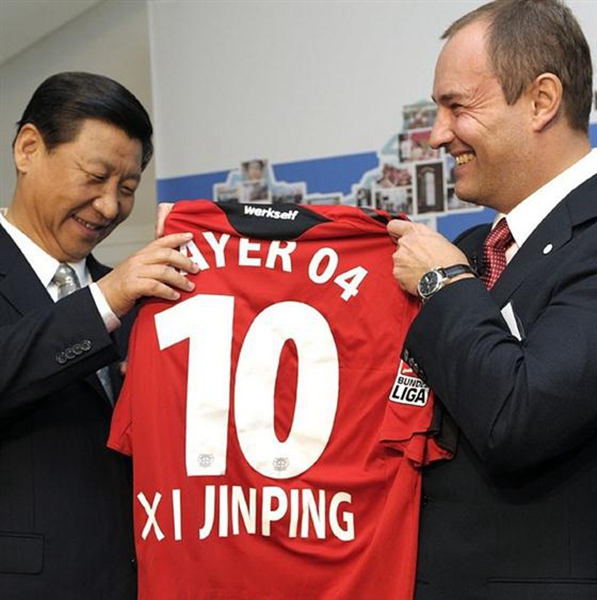 Xi Jinping receives a Bayer Leverkusen soccer shirt while visiting the German pharmaceutical company Bayer in Germany, on Oct 14, 2009. [Photo/people.cn]
Bayer Leverkusen
In October 2009, Xi visited pharmaceutical company Bayer during an official visit to Germany and received Bayer Leverkusen's No 10 jersey bearing his name and a 2006 World Cup soccer ball. The club Bayer Leverkusen was founded in 1904 by the company's employees.
"The level of Chinese football is relatively low, but there's a huge football fan base and a potential football market in China. After wining so many gold medals in other sports at the Beijing Olympic Games, China is determined to make its football go to the top level. But this might take a long time," said Xi.