Home / China / China Photos
Thousands of clocks decorate old couple's home in Northeast China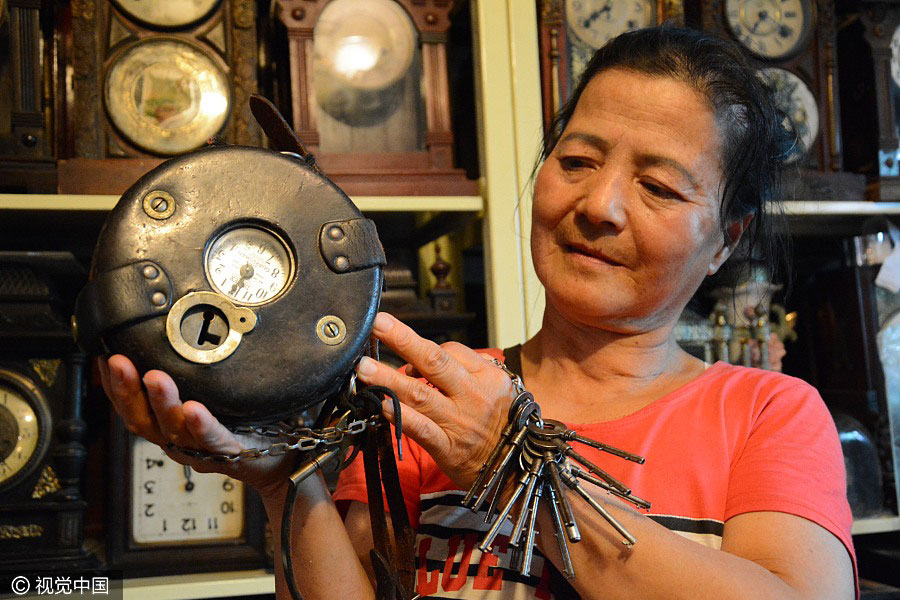 Wu Xiuying shows one of her collections at her home in Jilin city, Northeast China's Jilin province, on July 21, 2015. [Photo/VCG]
How many watches do you need to tell the time? One? Two? Well, how about a thousand? An old couple's house in Jilin city, Northeast China's Jilin province, has a wall of antique clocks.
Wu Xiuying, 71, said: "My husband and I have spent more than 40 years collecting more than 1,000 clocks and watches, and some of them are around 100 years old."
Wu said the idea to collect timepieces came to her when she began thinking of decorating her house.
"When I was in my 40s, we moved into a new house. I saw that other people were decorating their house with wallpapers, but wallpaper is not something you can take with you if you moved to another place. Then we read a story in a newspaper about a foreigner collecting clocks. That inspired our hobby," said Wu.
Wu said the oldest clock they have dates back to 1813, and the clock that has travelled the farthest distance from their home is from the US.