Tiangong II's dozens of experiments will include many not possible on Earth
China launched its second space laboratory, the Tiangong II, on Thursday night, which space officials said will become the country's largest scientific platform in space.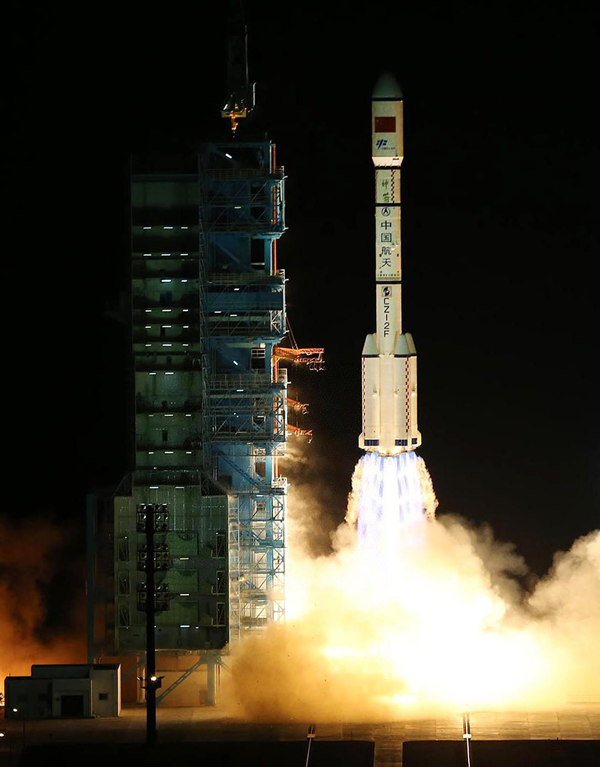 A Long March 2F rocket carrying the Tiangong II space lab blasts off at the Jiuquan Satellite
Launch Center in Northwest China on Thursday night. JU ZHENHUA / XINHUA
The space lab, the nation's first spacecraft with a modular design, was lifted off atop a Long March 2F carrier rocket from the Jiuquan Satellite Launch Center in Northwest China's Gobi Desert at 10:04 pm.
The lab will undergo preparations in space for about one month before the Shenzhou XI manned spacecraft, in a flight scheduled for mid-October, will take two astronauts to the lab to enter it. The astronauts will stay inside the lab for 30 days.
The lab will be monitored and controlled mainly by the Beijing Aerospace Command and Control Center.
Its predecessor, Tiangong I, was launched in September 2011 and was mainly used to test technologies involved in space rendezvous and docking.
By comparison, the Tiangong II will conduct more than 40 scientific and technological experiments together with the Shenzhou XI. That is many more than those carried out by the Tiangong I and three previous Shenzhou spacecraft, according to Wu Ping, deputy director of the China Manned Space Agency.
"Strictly speaking, Tiangong II is China's first genuine space laboratory. We aim to take advantage of the lab's strong capability, the microgravity and radiation in space as well as the astronauts' long stay to conduct scientific experiments and technological tests in many fields," she said.
Zhu Zongpeng, chief designer of Tiangong II at the China Academy of Space Technology, said microgravity, strong radiation and extreme temperatures in space can facilitate research on life science, physics and cutting-edge technologies, so Chinese scientists will make full use of the Tiangong II mission to do experiments that are not possible on Earth.
Liao Jianlin, a senior engineer at the academy who took part in Tiangong II's development, said that Tiangong II has devices to test in-orbit repair technologies for China's future manned space station, which is planned to be built around 2022.
Moreover, each system on the space lab uses a modular design, which means they can be rapidly changed or repaired in case of malfunction, he said. This is the first time that a Chinese spacecraft has adopted modular design, Liao added.
The country is expected to have the only space station after the International Space Station is retired in 2024.
Contact the writers at zhaolei@chinadaily.com.cn