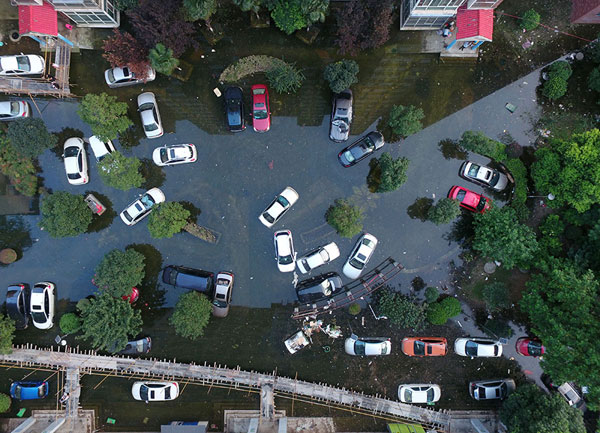 Cars are inundated in flood water in Wuhan, Central China's Hubei province in July. Wuhan is a pilot city. [Photo/VCG]
It takes time for sponge cities to become effective, said the Ministry of Housing and Urban Rural Development in an article published on its official website, adding that it is accelerating the construction of sponge cities.
The authority made the remarks as in response to media reports. Some media reported that 19 out of 30 pilot cities under the sponge city construction project were flooded in the last flood season. They therefore questioned the effectiveness of the project.
The central government launched the 'sponge city' program in 2015. Under the program, nearly 70-percent of excess rain water is required to be recycled and reused on greenery, street cleaning and fire-fighting.
A pilot city should achieve 20 percent of construction area to reach the target requirement by 2020 and more than 80 percent of construction area to reach the target requirement by 2030.
An official with the ministry said that pilot cities should fully implement measures to reach the requirement in new districts while better managing the relationship between water safety, environment, ecology and city construction. Pilot cities will solve urban water logging, treat polluted water and ease the urban heat island effects during the process of renovating the old residential areas.
"The construction sponge cities is accelerating. We are trying to replicate success by using innovative construction methods in pilot cities and intend to popularize mature modes in other regions", said the official.
Xie Yingxia, vice president of Water Department of China Academy of Urban Planning and Design, said, "In the face of urban water logging brought by extreme heavy rainfall, we must keep a cool head and should not censure or simply deny the construction of the sponge cities."
Affected by the El Nino phenomenon, China saw an increasing number of days with abnormal weather.
In the last flood season, more than 20 heavy rainfalls occurred in southern China, with catastrophic flooding happening in Taihu Lake basin, with water levels of the middle and lower reaches of the Yangtze River surpassing the warning line, and some regions suffering serious flood disasters, according to the article on the ministry's website.
"Even a sponge has its limit of saturation. There are standards in building facilities for sponge cities and their validity is only guaranteed within the standards," said Xie.
In 2015 and 2016, the Ministry of Finance, the Ministry of Housing and Urban Rural Development and the Ministry of Water Resources have designated 30 pilot cities as sponge cities in two batches.