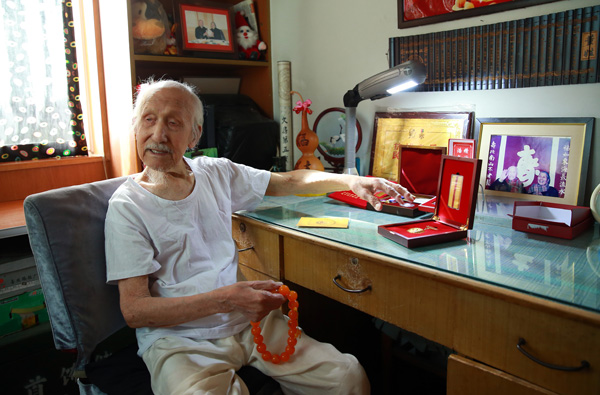 Nearly 112, Dong Jimin joined the Chinese resistance soon after the September 18th Incident in 1931. [Photo by ZOU HONG/CHINA DAILY]


Editor's note: Almost 85 years ago, the Japanese army engineered the September 18th Incident near Shenyang, Liaoning province, and launched an invasion of Northeast China. This was followed by a full-scale invasion, triggering the War of Resistance Against Japanese Aggression (1937-45). Three veterans of the war, with a combined age of more than 300 years, spoke to our reporter and recounted what it was like to take up arms against the invaders.
Zhang Daqian has had a remarkable life, not the least in its longevity. He is a carpenter who experienced the horrors of war, survived, and now, at more than a century old, the 102-year-old reflects on a life rich in experience beyond the imagination of many.
Working with wood, he said, required a calculated approach, be it shaving or crafting the piece, being careful not to waste any and knowing when to stop. "But none of these 'calculations' compare to the one I made decades ago, on the battlefield in Shanxi, in northern China," he said.
That was in 1943, six years into China's War of Resistance Against Japanese Aggression (1937-45). Zhang, an artillerist, in fact the only artillery specialist in his squad in China's Nationalist Army, found himself face to face with an enemy soldier.
"This may sound surreal today, but it was just him and me. We were separated by about 100 meters-both armies had been dispersed by all the fighting, I suppose. I had a gun, with one bullet left. And from where I stood, behind some low earthworks, I could clearly see that he was also holding a gun."
Zhang had to think quickly-his life depended on it.
"We stared at each other for a few seconds. Then I told myself, 'Don't panic. He has only one bullet.' How did I know? Because if he had two, he would have shot me," he said. "I took off my military cap, put it on a stick, which I thrust skyward."
The Japanese soldier, probably too nervous to see and think clearly, fired. The bullet hit the cap. "I guess he thought the cap was me. It took him two seconds to realize his mistake," Zhang said. "And off he fled. I didn't fire."
These days, with both his wife and only son having passed away, Zhang is living a quiet, if not lonely, existence in Pingdingshan, Henan province. Still agile, he cooks for himself, something unthinkable for most people his age. From time to time, his nephew, Zhao Jianguo, visits. "My uncle doesn't even remember the number of times bombs and shells exploded near him," Zhao said.
Zhao told of one particular moment when his uncle's life hung in the balance.
Zhang and his squad were overwhelmed by the enemy, Zhao said.
"When the fighting ended, a team of Japanese soldiers came to inspect the battleground. My uncle, too feeble to run, hid himself under the body of a fellow Chinese soldier," he said. "He was lying there, immobile. Then all of a sudden, a bayonet went through the dead body on top before stabbing my uncle in his right leg."
The pain was overwhelming, but Zhang remained still and did not utter a sound. The Japanese soldiers left, sure in their minds that all the Chinese soldiers had been killed. Later, under cover of darkness, Zhang fled into the mountains and tried to stop the bleeding with his limited knowledge of Chinese herbal medicine. He survived and later rejoined the army.
But then his luck ran out. He was captured by the Japanese in Shanxi province and thrown into a labor camp in Hebei province about 200 kilometers away.
"My uncle had been a carpenter before joining the army. So the Japanese asked him to make wooden barrels. But this type of carpentry he had little idea about," Zhao said, adding that his uncle never mentions those days, as they are too painful to discuss.
The only story the old man has shared with his nephew involved a failed escape attempt. "A small group of internees-about 15 people-built an underground tunnel that was about four meters long and led directly from the camp yard to the outside," Zhao said. "It took them four entire months since they were only able to work during the change of guards that took place a few times a day."
On the eve of their planned escape, they were betrayed.
"The traitor must have been among us," said Zhang, who saw three of his fellow internees beaten to death during interrogation.
For movie buffs with a keen interest in World War II history, the horror of such interrogation could be glimpsed through the 2013 British-Australian war film The Railway Man, starring Colin Firth as Eric Lomax, a real-life British officer captured by the Japanese in Singapore during WWII and tortured at a POW camp for building a radio receiver from spare parts.
World of darkness
At age 95, Song Yupu has also lived a life that, at times, saw him exposed to inhumane treatment.
Joining the army in 1941, Song was captured during a battle in the summer of 1942, when his 800-member regiment was rounded up by 5,000 Japanese in Shandong province, eastern China. "About 200 Chinese soldiers died by the end of the fighting. The rest of us were captured," Song recalled. "I was put into a truck with about 40 other people, heading for a place unknown."
At around midnight, the truck stopped. "It was dark, and we waited until the next morning, only to be driven into another world of darkness where we would remain for all our waking hours for the next few years."
That was the underground world of the iron mines, deep in the mountains of Northeast China's Jilin province, occupied by Japan since 1931.
"Every morning, we were driven into the tunnels before dawn, and were only able to return long after sundown to our living quarters, where 30 men slept on the floor in one room," Song said.
Cave-ins happened quite often, according to Song. And when illness struck, many of those overworked, malnourished young men, mostly in their early 20s, were too weak to survive. "Once so robust, they broke like chopsticks," Song said. "Of all the people in that truck, only three eventually went out of the mountain alive."
Song was one of them. And he did so by fleeing the deathtrap two years ahead of Japan's defeat in WWII. "I tried twice-the first time was just a few months after my arrival at the mine. I ran into the mountains with a couple of fellow captives, before realizing that all roads down the steep slope had been blocked by the Japanese," he said. "When night came and the bitter cold set in, we were left with two choices: to die in the wild or to return to the camp. We chose the second."
Fortunately for them, the man who was directly in charge of all the captives was a Chinese who harbored secret sympathies for the young men, so the punishment handed out was not as severe as it might have been.
Song decided to make another escape attempt two years later, in 1943. "As laborers, we were allowed to write to our families. So I wrote a letter to my parents back in Shandong asking whether they knew anybody from our village who had moved to Jilin in the previous years. It turned out that there was one," he said.
Song's parents wrote back, telling their son the exact address of his fellow villager in Jilin. Song immediately wrote to that man, notifying him of his coming. "I made no mentioning of my life at the labor camp. And he assumed that I was a traveling businessman," Song said. "Then one day, I fled-at that point, I knew my surroundings well enough that no turning back was necessary."
For two days solid Song walked until he stood right before the door of his savior, 100 km from the camp site. "I told him everything. He let me rest for a few days before getting me a pass through his connections," Song said. "Then I took a train that took me to my parents."
Japan officially surrendered to China on Sept 9, 1945. Song, who had experienced too much to stay in his little village in Shandong, came to Beijing the following year. He became prop manager of the newly-founded Peking Opera Company, where he worked until retirement.
For the past 70 years, he has been living in his small courtyard home just a few minutes' walk away from Tian'anmen Square, the symbolic heart of the country. He has problems with his legs and he can barely walk. "I believe the origin of the pain lies in the days spent digging iron ore in the dark, damp tunnels," he said.
However, Song said the scene that had seared the most indelible impression on his mind was not one of suffering, but one of loss.
"I still remember the way our captain fell during our last battle, in the blinding sunlight of the day. He was hit by a bullet," Song said. "We were merely two meters from each other. In fact, I had never been that close to him before that point-physically and mentally."
In times of war, questions of life and death can be almost academic. Death can arrive at any time and no plans can be made for life beyond the battlefield. Death is not something to be scared of, but something to be accepted, said Dong Jimin, who, incredibly in December this year will turn 112.
"Death was just an integral part of life that could come at any time, with or without an emphatic note," he said.
Lives cut short
Dong joined the Chinese resistance soon after the September 18th Incident. That day in 1931, Japanese military personnel detonated a small quantity of dynamite close to a railway line owned by Japan. The explosion was so weak that it failed to destroy the track and a train passed over it just minutes later. But the Imperial Japanese Army accused the Chinese of causing the blast and responded with a full invasion that led to the occupation of Northeast China, then known as Manchuria.
Decades later, on Sept 3 last year, when China held a grand military parade to commemorate the end of WWII, Dong watched the live TV broadcast at home. His son, Dong Xiwu, will never forget what happened next.
"When the vehicle carrying veteran soldiers came into view, my father propped himself up on the back of a chair and saluted."
For Song, every ceremony serves as a reminder of lives cut short in an instant and of young men never allowed to age.
"A young man, my fellow inmate at the labor camp, once talked to me about his plans to run away," Song recalled. The man died in the mine after part of it collapsed. "He said to me, 'I have to get out of here-I'm engaged'," Song said.