NEW YORK -- Premier Li Keqiang arrived at John F. Kennedy International Airport in New York on Sept 18 to attend a series of high-level meetings of the 71st session of the United Nations General Assembly at the invitation of United Nations Secretary-General Ban Ki-moon.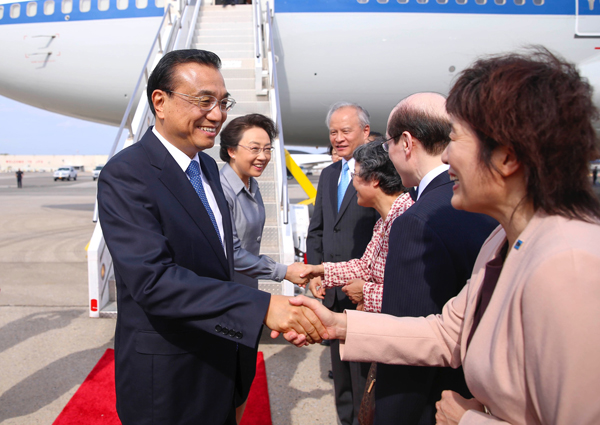 Premier Li Keqiang arrives at John F. Kennedy International Airport in New York on Sept 18. [Photo/Xinhua]
Premier Li said that this year is the 45th anniversary of China's resumption of its legitimate seat at the UN. As a permanent member of the UN Security Council, China actively supports its development and defends the principles and purposes of the UN Charter, the Premier said.
He also said that China is glad to join hands with other participants to make contributions to cope with global challenges and promote peace and development in the world.
Liu Jieyi, China's permanent representative to the UN; Cui Tiankai, China's ambassador to the United States; and Zhang Qiyue, consul general in New York, welcomed the Premier and his wife, Cheng Hong, at the airport.
During his stay in New York, Premier Li, besides attending the General Assembly session, will chair a symposium on sustainable development and take part in the General Assembly high-level meeting on the refugee issue and a leaders' summit on the same topic. He also will meet UN Secretary-General Ban Ki-moon and some state leaders.
The Premier will hold a bilateral meeting with US President Barack Obama and meet American economic, financial, think tank and media representatives. He also will attend events held by some institutions, including the Economic Club of New York.