Enlightened self-interest means that bosses are now keen on ensuring staff do not come down sick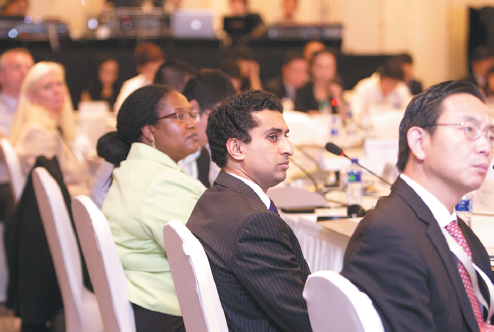 CEOs from all sectors in China discuss on workplace health culture at the conferences organized annually by CEO Roundtable on Cancer-China. CHINA DAILY
Related story: Bill of health: Not in bad shape but has many anxieties
A growing number of companies and organizations are realizing that being a good employer consists of much more than providing a fair day's pay for a fair day's work. A narrow outlook in which the bottom line was paramount has been replaced by a much more holistic view that can be summed up as: Health is wealth.
These employers have begun to see the economic burden of unwell workers, both in medical expenses and lost productivity, as enormous.
In the United States, where the most extensive data are available, it is estimated that the costs of chronic disease, work-related injuries and illnesses, stress and employee disengagement amount to more than $2.2 trillion a year, or 12 percent of GDP, according to the Future of Wellness at Work report published by the Global Wellness Institute, whose aim is to promote the wellness industry.
Employers in China are among those becoming more aware of the problem, and are willing to look for and apply solutions.
A group at the forefront of looking for such solutions is the Shanghai Pilot Health Promotion Center, part of the CEO Roundtable on Cancer, a nonprofit organization made up of chief executives in the US. It has adopted the ambitious goal of eliminating cancer as a human disease and public health problem.
The parent organization was founded 15 years ago and set up a branch in Shanghai late last year.
"We are the first internationally operated nonprofit organization in China to advocate the workplace wellness culture," says Wang Rui, senior director of the Shanghai center. "The organization has been successful in the US, and we think it will be successful here, too."