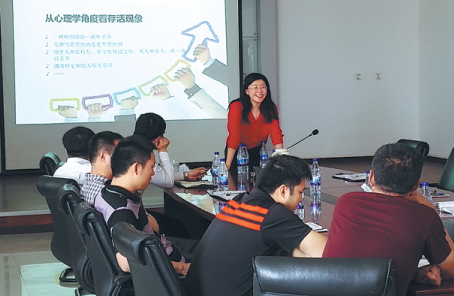 CNPC provides disease prevention programs and sports facilities for its employees. CHINA DAILY
However, many State-owned companies and public institutions in China provide awarding health benefits and initiatives to employees.
Zhang Jun, director with overseas security and the health, security and environment office of the international department of China National Petroleum Corporation (CNPC), says the company is a leader not only in China but perhaps internationally as well in healthcare programs for its employees.
The company has more than 15,000 Chinese employees in more than 100 countries and regions. Apart from routine health services, such as checkups and occupational disease prevention programs, the corporation has established an all-round system to protect and improve employees' health, physically and psychologically, Zhang says.
In addition to generous leave entitlements, employees can make use of facilities for physical exercise including sports, he says.
Because of the nature and location of CNPC work assignments, many staff can often feel highly isolated, and since 2008 the company has provided an anonymous around-the-clock hotline and online psychological consulting service.
Since 2012, CNPC has engaged psychologists to deliver lectures and conduct onsite assessments, consulting and surveys in many countries, including Sudan and Niger.
In remote and underdeveloped countries and regions, especially where the public healthcare service is poor, the company used the services of International SOS and other suppliers and telemedicine devices. International SOS is said to be the world's largest medical and travel security services firm, .
Since 2012 the company has been a pioneer among Chinese State-owned companies in providing a website for employees that aims to educate on health matters and provide self-assessment tools and online consulting.
"Workplace wellness not only reduces the loss of experienced employees, but also increases productivity and work safety," Zhang says. "It's critical."