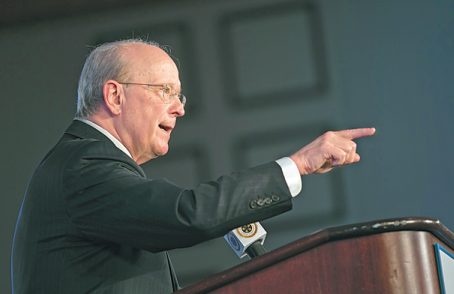 CEOs from all sectors in China discuss on workplace health culture at the conferences organized annually by CEO Roundtable on Cancer-China. CHINA DAILY
It organizes activities to promote healthy lifestyles and to raise funds for charity organizations, and liaises between governments and private interests by putting on conferences and forums.
"We are keen to raise the awareness of CEOs and decision-makers about workplace wellness," Wang says.
In the US about 200 organizations are accredited, and in China there are three-two international pharmaceuticals companies, and a joint venture hospital. All are in Shanghai.
Boehringer Ingelheim, the multinational pharmaceuticals company whose headquarters are in Germany, gained accreditation this year and has established a comprehensive health and wellness system, and now provides employees with a variety of health care programs such as assessment of health risks, smoking cessation programs and HPV vaccines.
"Employees are the key asset for our company," says David Preston, chairman and chief executive of Boehringer Ingelheim for China.
"We see no conflict between providing a health-friendly workplace and improving operational effectiveness. Actually, a healthier workplace can help improve employees' work efficiency."
Cultivating a health culture goes far beyond encouraging and helping employees to give up smoking and providing appropriate work stations, he says.
Many companies in China's first-tier cities are increasingly aware of the importance of a healthy workplace, but many still need to be convinced to turn that awareness into action, Wang says.
"In many organizations management has not realized a health-friendly workplace will increase productivity, and the employees have limited knowledge about health and disease prevention."