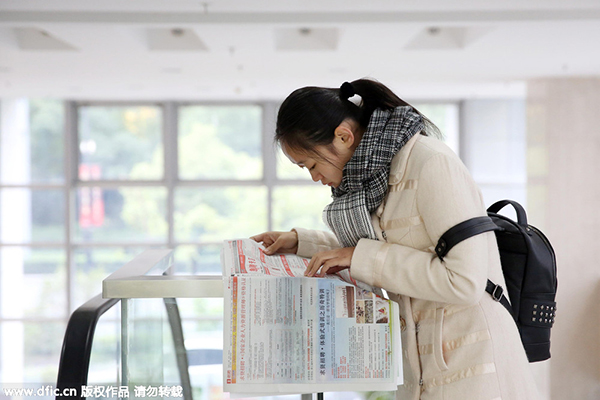 A graduate browses job information during a job fair in Hangzhou, Zhejiang province, Nov 25, 2015. [Photo/IC]
While China continues to face the realities of an economic slowdown and the challenges associated with its structural transformation, companies-especially industry leaders-have not tightened their budgets for human capital but are still making long-term investment in their staff, seeing them as core assets.
That's the message from the Best Employers China 2016 award-jointly released by global talent, retirement and health solutions provider Aon Hewitt, and social network LinkedIn Corp.
Award winners were among the 108 domestic and multinational candidate companies from 11 industries in 192 Chinese cities.
The companies winning the award included AIA China, Bayer (China) Ltd, DHL Sinotrans International Air Courier Ltd, Infinitus (China) Co Ltd, McDonald's (China) Co Ltd, MSD China Holding Co Ltd, Novartis Group (China), Pfizer China, Taikang Life Insurance Co Ltd and The Ritz-Carlton Hotels China.
Even though the country is entering the new normal of economic development, with its growth rate slowing but more sustainable, firms winning the award were able to demonstrate a higher growth rate when compared with their peers.
For the fiscal year between 2014 and 2015, the best employers managed to accomplish an average growth rate of 19 percent while the average level for the rest of surveyed companies was 15 percent.
It is the 16th year in a row Aon Hewitt has conducted the best employer research. It started to work with LinkedIn last year to identify the best employers by measuring four metrics: employer brand, high employee engagement, high performance culture and effective leadership.
Two organizers discovered in the latest survey that career opportunity, rewards and recognition as well as performance evaluation remained the top drivers to improve employees' engagement within a company.
According to Liu Yuan, chief executive officer of Aon Hewitt Greater China, career opportunity is of great importance to the younger candidates born in the 1990s, especially living in first-tier cities. Up to 40 percent of polled "new millennials" believed that they should be promoted every two years.
A company's corporate credibility, according to the research, has become the most important issue in terms of building an employer brand. About 93 percent of the interviewed employers rated credibility as No 1 in importance, up from the 86 percent a year earlier.
Aon Hewitt global partner Zhang Hong said that better localization was one key factor, which helped companies stand out. It means not only the localization of multinational companies but also the domestic companies adopting localized strategies after they have entered overseas markets.
"Local companies are booming and coming to realize the importance of building an employer brand," said Zhang.
Yu Zhiwei, vice-president of LinkedIn China, said that the Chinese job market is undergoing more changes as firms are expanding globally and the internet is playing a more important role in industries.
"Changes bring solutions and improve performance. A growing number of Chinese employers are letting go of traditional models and embracing innovative methods and technologies to attract and retain talent by leveraging social recruiting, employer brand building and big data insights," said Yu.