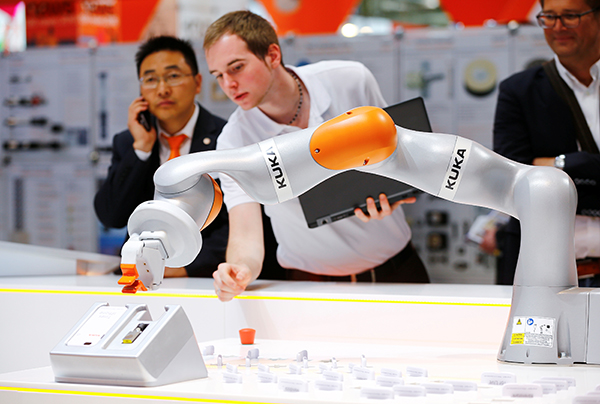 A technician programs a robot arm at the German industrial robot maker Kuka AG's stand during Hanover Fair in Germany in April. [Photo/Agencies]
Midea Group, China's biggest maker of home appliances based in Foshan, Guangdong province, launched on Thursday a voluntary public tender offer for all shares above its current 13.5 percent stake in Kuka AG, a global technology leader in robotics and automation.
The offer of 4.6 billion euros ($5.16 billion) confirmed Midea's previously stated intention to increase its stake in Kuka to become the biggest shareholder of the German company, ahead of Voith GmbH, a maker of industrial equipment. The offer is contingent on an acceptance rate of at least 30 percent of the outstanding shares.
"We want to support Kuka's growth and plan to jointly realize the vast growth potential in China, with an aim of increasing our current shareholding to expand the partnership," said Paul Fang, chairman and chief executive officer of Midea.
According to Midea, the German Federal Financial Supervisory Authority approved the publication of the offer document on Wednesday and the shareholders' general meeting of the Chinese company already approved the transaction plan on June 6. The publication of the offer document marked the beginning of the acceptance period of the tender offer, which ends on July 15, according to Midea.
"Cutting-edge technology from Germany and Midea's long-term experience and network in the Chinese market will allow us to benefit from the growth opportunities across different industries in China," said Fang.
One of key strategic focus areas of Kuka is the broader robotics market in China, an area in which Midea also sees sustainable growth opportunities, according to Fang.
According to an industrial report written and released by Midea, China continuously seeks ways to automate its factories as rising labor costs reduce the country's cost advantage, prompting the need to increase factory automation. However, robot penetration in general industries currently remains extremely low at about 17 units per 10,000 workers in China, according to the report.
"The partnership will expand Kuka's product offerings and customer base in China, especially in the Pearl River Delta region, a major manufacturing and industrial base in South China," said Lin Jiang, a professor at the Guangzhou-based Sun Yat-sen University.
A larger shareholding in Kuka will also help the companies increase exposure to general industry in China through Midea's network, realize efficiencies in supply chains, and grow the service robotics business in the consumer segment, according to Lin.
In addition to its market share of 35 percent in North America and 46 percent in Europe, Kuka also achieved a 19 percent market share in Asia and other regions, according to the report.
The company had about 3 billion euros in revenue in 2015,
The Augsburg, Germany-based company has expanded its Asian presence in recent years, with a factory being established in Shanghai in 2013. It already provides hundreds of products to automate Midea's factories. By 2020, Kuka said that it plans sales of 1 billion euros in China.