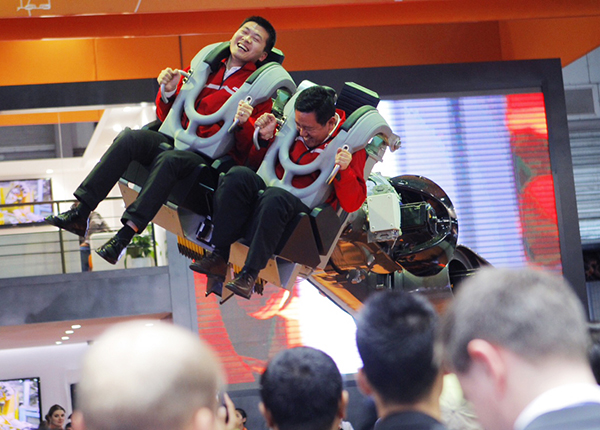 Visitors try Kuka's Robocoaster at an expo in Shanghai. [Photo provided to China Daily]
China's biggest maker of home appliances Midea Group will likely announce on Thursday a full takeover bid for German industrial robot maker Kuka AG.
Midea will launch the takeover offer to all shareholders of the leading global supplier of intelligent automation solutions, according to a Reuters report, which cited sources in Kuka.
Spokesmen for the Chinese group would not comment on the report, saying a statement would be made after a takeover bid is formally announced.
"Up till now, preparations for the bid have been well conducted in accordance with relevant regulations and laws of China and Germany," said the a spokesman, who declined to be named.
Sources in Midea said earlier that the company, based in Foshan, Guangdong province, an industrial and economic powerhouse in South China, planned to expand its stake in Kuka to above 30 percent.
That would make it the biggest shareholder, ahead of Germany's Voith GmbH, a maker of industrial equipment.
Currently, Midea indirectly owns 13.5 percent of Kuka's shares. The voluntary takeover offer will reportedly be conducted by Midea's affiliate MECCA International Ltd, at 115 euros ($129) in cash per share.
However, according to German business newspaper Handelsblatt, Midea is only seeking a 49 percent stake in Kuka. That paper cited unnamed sources in the German government.
Midea sources reportedly said that the company decided mount the takeover bid for Kuka during a board general meeting on June 6.
The increased shareholding in Kuka was made in line with Midea's "smart" strategy. Launched in 2015, it aimed to upgrade the group's manufacturing competencies and develop more smart home devices, said Midea Chairman and CEO Paul Fang.
"We believe that a larger shareholding strikes the right balance between us and Kuka, while also putting both companies in a position to drive further growth through collaboration, especially in the Chinese market," said Fang.
Fang also said the takeover was in line with the company's expansion in the international investment market, after the company bought an 80.1 percent stake in Japanese home appliances maker Toshiba Corp's white goods business.
The German industrial robot maker will assess a possible takeover bid from a European company, but it would be wrong to assume such an offer would take priority over the bid from Midea, according to earlier Reuters reports, citing sources close to Kuka chief executive.
Industrial giant Siemens AG has no interest in becoming a white knight for Kuka, according to the Reuters report.