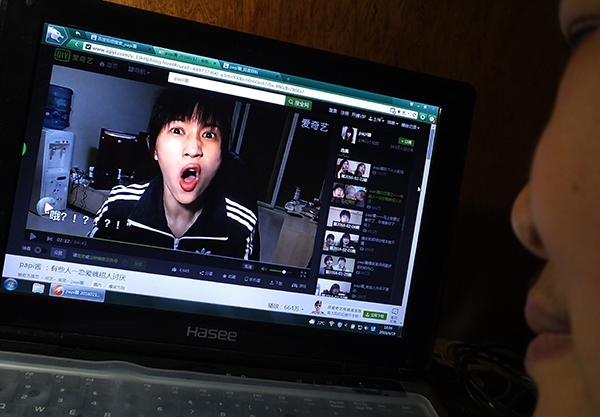 A netizen in Yichang, Hubei province, watches videos of Jiang Yilei, the most famous Chinese video blogger. [Liu Junfen/For China Daily]
Over the last weekend, I binge watched the most famous Chinese video blogger Jiang Yilei who has reportedly turned her short videos into a business worth hundreds of millions of yuan, in just a matter of several months.
Of course, there has been market talk about plans to replicate her modus operandi and there could be hundreds of Papi Jiang, her online moniker, soon.
While I watched Jiang talking in rapid-fire Mandarin and Shanghainese occasionally peppered with English phrases and vulgarities, I began to see her business potential that has attracted millions in venture capital and advertising.
But I doubt if the wildly popular one-woman show, followed by close to 12 million fans on Sina Weibo alone, could be mass produced like a blogger cum shopping guide, a hot occupation created by the booming Chinese internet celebrity economy.
For a start, Jiang is opinionated, funny, smart and resonates with urban young people. In a self-deprecating manner, she pokes fun at everyday topics ranging from dating woes to family relationships to social trends.
If these qualities are not salient enough, think about Jiang as a skilled and resilient director with undergraduate and graduate studies completed at the prestigious Central Academy of Drama. While Jiang chose a messy living room as the setting of her videos, she is said to be meticulous about her production, with lots of time spent on script writing and rehearsal. In early April, media regulators ordered her videos to be taken offline because of her use of "swearing and insulting language". She came back days later with her modified videos available for viewing again.
I wish there could be more internet hosts like Jiang who accumulated fans by producing original, compelling content. But Jiang appears to be the only one of her kind. Many other famous internet bloggers have taken the path of a shopping guide to monetize their fans' love.
Most Chinese internet stars, better known as wanghong, are models, former beauty pageant winners or nice-looking rich young women who promote consumer products like clothes and cosmetics to their fans on social media and their blogs.
There is a general pattern for wanghong to cultivate a following and become opinion leaders of consumers. Some start by sharing selfies and posting or re-posting witty comments that appeal to like-minded readers. Some publicize their luxurious lifestyle that others want to emulate. Advertisers love themas powerful marketing agents to tap niche markets.
The rise of the e-commerce celebrity marketing, to the tune of 58 billion yuan ($8.81 billion) in 2016, has also spawned advertising companies that specialize in the training and promotion of wanghong who aspire for lucrative advertising and sales deals.
As the grooming process is standardized, some such companies boast they can launch a full-fledged wanghong, complete with a reasonably sized fan base and marketing capabilities, in three months.
Besides her content, the endgame has also set Jiang apart from the crowd. While many wanghong eventually end up as shop owners on a major e-commerce site, Jiang has announced that she will launch PapiTube that like YouTube, allows users to upload and share video clips online.
Investors have already treated Jiang's low-cost show as another tech startup, with projections on its business model, markets and profitability. But everybody is most concerned about the sustainability of Jiang's satirical and spicy videos, which could be a key competitive strength of her proposed video site.
Audiences have considered it a self-parody when Jiang ends every video by saying "I'm Papi Jiang, a woman who combines beauty and talent". Now they might take it more as battle cry of a determined, entrepreneurial young woman who wants to take the wanghong business to next level.