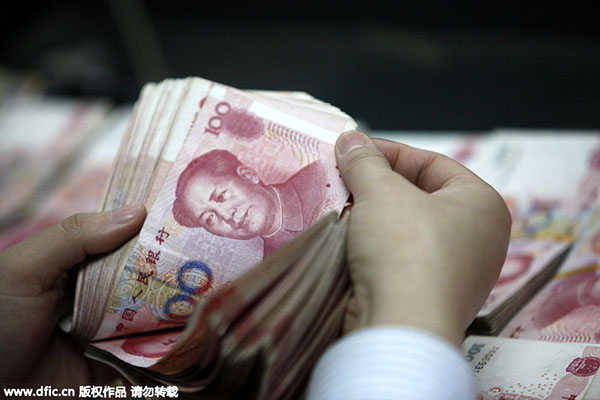 A Chinese clerk counts yuan banknotes at a bank in Huaibei city, east China's Anhui province, Jan 22, 2015.[Photo/IC]
Twelve privately owned banks have entered the project demonstration stage before getting final approval to begin operations, said the China Banking Regulatory Commission on Wednesday.
The CBRC has written detailed rules specifying the principles, policies, standards and procedures for the approval of the establishment of private banks. The market niche for these private banks includes internet finance and supply chain finance, depending on the backgrounds of their major shareholders and local government support. They will mainly target micro and small companies.
So far the CBRC has approved five private banks to start operation. As of March 31, total assets of the five private banks reached 95.94 billion yuan ($15 billion), up 21 percent from the beginning of this year. Their balance of loans increased by 51 percent to 35.65 billion yuan and balance of deposits rose 11.6 percent to 22.25 billion yuan during the same period, according to the CBRC.
"These banks keep improving in terms of corporate governance, internal control and risk management," said Qiu Xiaoqiu, deputy director of the city commercial banks supervision department of the CBRC.
China has been steadily promoting the entry of private capital into the banking sector through multiple channels, such as initiating the establishment of small and medium-sized banking institutions.
Statistics from the CBRC show that at the end of March, private capital took a 46 percent stake in joint-equity commercial banks, increasing from 39 percent in 2011.
The share of private capital exceeded 50 percent in city commercial banks and reached nearly 90 percent in rural cooperative financial institutions. Some city commercial banks are wholly owned by private companies. The number of non-bank financial institutions, excluding trust companies, of which private capital took a controlling or participating share was 78, accounting for 25 percent of the total.