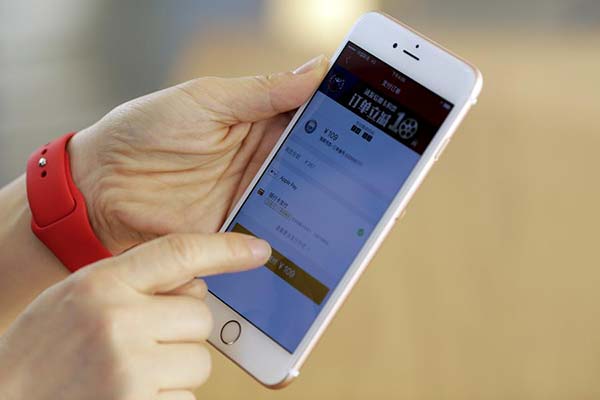 An employee uses an Apple iPhone to demonstrate to reporters how to pay using the Apple Pay service at an Apple store in Beijing, Feb 17, 2016. [Photo/Agencies]
Chinese banks have moved to set up investment funds to acquire overseas financial technology companies, hoping to harness technical innovation in the financial sector, or the so-called fintech wave that is poised to disrupt the traditional banking business.
Fintech involves, among other things, new technologies like machine learning, predictive behavioral analytics and data-driven marketing. It involves improved data analytics helping institutional clients further refine investment decisions.
Smaller joint-stock commercial banks and city commercial banks in China are taking the lead as some of them will soon establish their own fintech funds, said Nicole Zhou, associate partner at consulting firm McKinsey & Co.
The move is being seen as an answer by the banks to the challenges posed by the flourishing internet finance sector and their response to the rapid rise of digital banking in China, said Zhou, who has been advising her banking clients on digital strategies.
Zhou said that the first batch of these funds would probably be announced within months, although she declined to name the banks involved.
Setting up overseas investment funds will still be subject to regulatory approval on foreign exchange and the relaxation of investment restrictions on commercial banks. But analysts said the fintech trend is here to stay and direct investment into technology firms would be an effective way for Chinese banks to acquire vital technology and resources.
"The fintech wave is an unavoidable trend and will have a huge impact on the banks, many of which have difficulties of developing their own technology capability given their current corporate resources," said Zeng Gang, director of banking research at the Institute of Finance and Banking at the Chinese Academy of Social Sciences.
"If so, the most effective way for the banks would be investing directly into fintech firms rather then developing their own technology ecosystem," he said.
The internet finance market in China has been growing fast with total market value reaching about 12 trillion yuan ($1.82 trillion) to 15 trillion yuan as of 2015, accounting for nearly 20 percent of China's GDP, according to McKinsey.
The People's Bank of China, the monetary authority, has also been exploring the feasibility of launching digital currency and weighing the blockchain technology, a technical innovation of bitcoin, which will prevent financial transaction records from being tampered with and revised.
The developments in China reflect the global trend of fintech wave that is posing challenge to the operation of traditional financial sector. The fintech companies have been using new technology including big data, cloud computing, blockchain technology, and mobile internet to disrupt the business model of traditional banking.
In 2015, the fintech sector attracted a record amount of investment of $19.1 billion globally, nearly 8 times the amount in 2011, according to a report by McKinsey & Company.