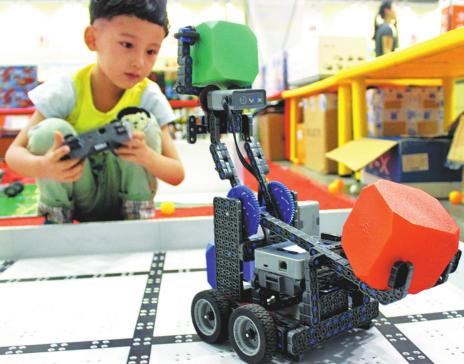 A child is attracted by a robot on display at a toy exhibition in Suzhou, Jiangsu province. Wang Jiankang / for China Daily
Can a six-year-old child understand and apply the knowledge of electrical circuits? Yes, if he/she gets to play with a high-tech toy designed by a Shanghai-based company.
Linking up the "electronic bricks", which include a power source, a switch, a resistor and other components with a conducting wire, children could learn the basic principle and knowledge about circuits during the process of assembly.
"Marvelous Circuit" is the latest intelligent toy launched by Shanghai Putao Technology Co Ltd.
Thanks to the application of image-recognition technology, children could also clearly see the motion trails of electrons in the connected circuit by just scanning their completed works using an app.
Founded in 2014, Putao is engaged in the development of hi-tech toys and apps for children aged between 3 and 12.
Chinese toy manufacturers are speeding up efforts to apply the most-advanced technologies, such as artificial intelligence, virtual reality, augmented reality, image recognition and big data, to the intelligent toy market.