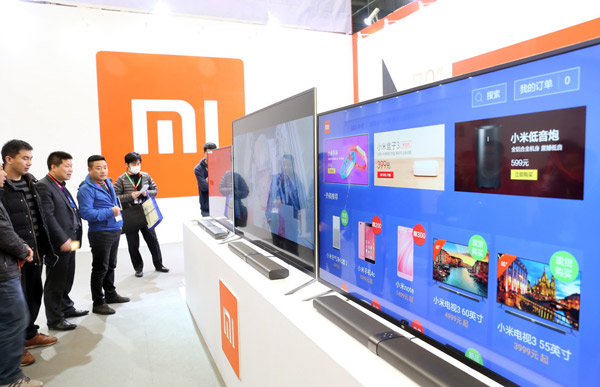 Visitors look at smart TV sets of Xiaomi on display during the Appliance & Electronics World Expo 2016 (AWE 2016) in Shanghai, Mar 10, 2016. [Photo/IC]
Chinese smartphone maker Xiaomi Corp is expanding its presence in the finance industry by joining other investors to set up a private bank in southwestern Sichuan province.
The move is Xiaomi's latest push to diversify its business, as the smartphone group wrestles with declining sales and intense competition from rival Huawei Technologies Co Ltd and others.
The Beijing-based company said on Monday its wholly owned subsidiary Sichuan Yinmi Technology Co Ltd and other investors have obtained approval from the China Banking Regulatory Commission to set up Sichuan Hope Bank.
The new bank, with a registered capital of 3 billion yuan ($455 million), will focus on serving individual consumers, small and medium-sized companies, as well as those engaged in the agricultural sector.
Sichuan Yinmi plans to pour 885 million yuan into the new bank for a 29.5 percent stake. Other investors include New Hope Group, China's largest animal-feed producer, which will control a 30 percent share.
By relying on New Hope's sprawling agricultural presence and Xiaomi's roughly 200 million users, Sichuan Hope Bank will be able to offer better financial services, the company said in a statement.
As China's smartphone market is reaching saturation point, Xiaomi is losing ground to Huawei and late comers such as Oppo Electronics Corp and vivo Mobile Communication Technology Co Ltd.
To bolster long-term growth, the six-year-old company is beefing up its efforts to build an ecosystem where internet financial services will play a key role in connecting partners and sustaining users.
Currently, it is offering Xiaomi Wallet, an internet money-market fund service, and a mobile payment service is also in the pipeline.
Other internet heavyweights such as Alibaba Group Holding Ltd and Tencent Holdings Ltd are also building up their presence in the internet finance sector, which more Chinese tech firms see as a key commercial infrastructure.
Li Chao, an analyst at Beijing-based research firm iResearch Consulting Group, said compared with Alibaba and Tencent, Xiaomi is a newcomer in financial services and lacks skill.
"But Xiaomi can pre-install internet finance apps on its smartphones, and partnering with New Hope also arms it with strong financial muscle, given that Liu Yonghao, the chairman of New Hope, is one of early investors of China Minsheng Banking Gorp Ltd, the largest private bank in China," Li said.