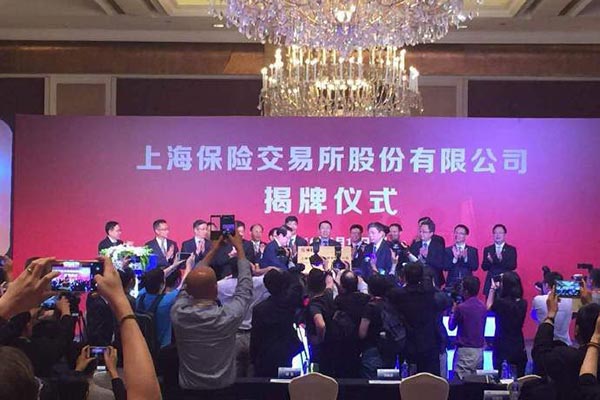 China's first insurance exchange platform Shanghai Insurance Exchange was launched in Shanghai, June 12, 2016.[Provided to chinadaily.com.cn]
The Shanghai Insurance Exchange was launched on Sunday, which, as China's first insurance asset trading platform, will boost transparency and efficiency in the world's third-largest insurance market.
Chen Wenhui, vice-chairman of the China Insurance Regulatory Commission, said the exchange should increase the number and types of insurance products available to meet the fast-growing demand for insurance protection.
According to CIRC data, total assets of China's insurance industry has more than doubled from 5 trillion yuan ($760 billion) in 2010 to 12 trillion yuan in 2015.
The new insurance exchange was launched during Lujiazui Forum, an annual two-day meeting of authorities, market players and scholars, which focuses on financial market development.
With initial registered capital of 2.24 billion yuan, the exchange enables trading of insurance assets and insurance derivatives, including international reinsurance, shipping insurance and mega insurance deal bidding, according to a statement of the exchange.
According to Pei Guang, director of the Shanghai Insurance Regulatory Bureau, Shanghai will use a 300 billion yuan insurance investment fund and the insurance exchange to position the city to become a major insurance hub by 2020.
The exchange will connect domestic and global insurance markets and will be a bridge between insurance markets and the overall capital market. It will facilitate the emergence of a reinsurance trading and pricing center and become an important vehicle for catastrophe insurance development.
A key enabler of the exchange is the new China Risk-Oriented Solvency System (C-ROSS), which will allow regulators and the exchange to measure the solvency and actuarial risk of insurance products.
"The accumulation of trading data will help regulators monitor risk trends, and the C-ROSS framework will push forward disclosure of products and their trading information." said Zeng Yujin, chairman of the Shanghai Insurance Exchange.