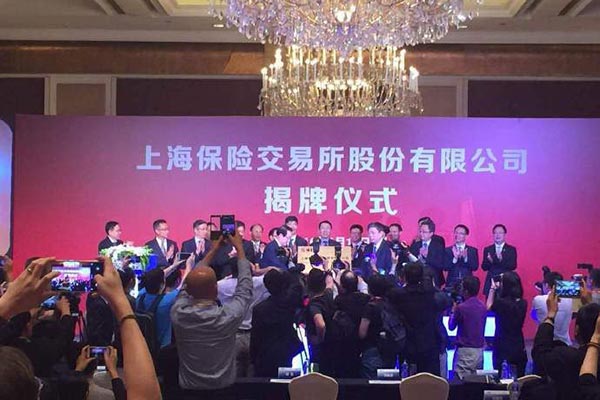 China's first insurance exchange platform Shanghai Insurance Exchange was launched in Shanghai, June 12, 2016.[Provided to chinadaily.com.cn]
China launched its first insurance exchange platform, Shanghai Insurance Exchange, on Sunday morning, filling a gap in China's insurance market.
The platform's 2.235 billion yuan ($341 million) will enable insurance trading in the country, a hundreds-billion-yuan-sized market.
The SHIE wants to become a Shanghai-based, nationwide comprehensive insurance service platform, and aims to serve insurers and consumers globally.
SHIE is positioned to offer services for product offering and registration, trading and information disclosure, and offer infrastructure to reinsurance business, the exchange said in an announcement.
The exchange was launched at a sideline of the Lujiazui Forum 2016, an annual forum for financial markets, involving officials, scholars and market players in Shanghai.
Xiang Junbo, chairman of the China Insurance Regulatory Commission, told the forum that China's insurance market would strengthen product offering to benefit consumers, including piloting and encouraging reverse mortgage for pensioners' retirement plans, and high-quality products to meet demands for health and education insurance.
Experts said China's insurance market had made significant progress in recent years, and would continue developing to meet increasing demands for protections.
Mark Tucker, Group Chief Executive and president of the AIA Group Ltd, said the Shanghai Insurance Exchange was an effort to increase the transparency and efficiency of the insurance market in China.
He said the increasing demand for insurance in China requires more products in the market.