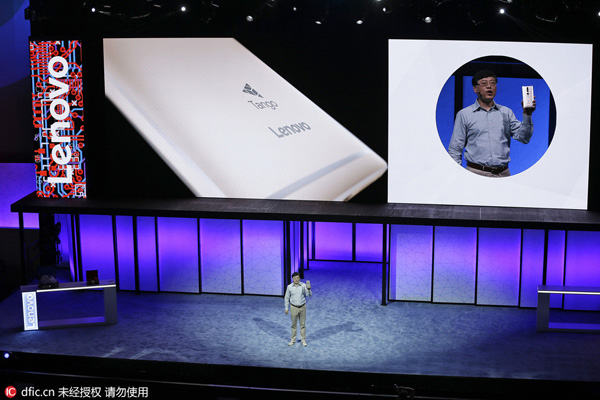 Lenovo Chairman and CEO Yuanqing Yang holds up the new Phab2 Pro phone during the keynote address at the Lenovo Tech World event, Thursday, June 9, 2016, in San Francisco. [Photo/IC]
Lenovo Group Ltd unveiled an augmented-reality-enabled smartphone, as the Chinese tech giant struggles to revive faltering smartphone business and declining personal computer sales.
The new handset, Phab2 Pro, is based on Google Inc's Project Tango, a technology designed to overlay virtual objects and characters on top of real life physical environments.
The 6.4-inch screen device is equipped with four cameras and various sensors, which help host many augmented reality applications, such as helping people navigate the world, play virtual dinosaur games and visualize whether appliances fit in a simulated room in a home.
Yang Yuanqing, chairman and CEO of Lenovo, said that with the Phab2 Pro, Lenovo becomes the first company to apply AR technology to handsets, without the need for a headset or being connected to a high-end computer.
Lenovo expects about 25 Tango apps to be available at launch and about 100 by year end. Starting at $499, Phab2 Pro will be available in China and the United States in September.
The new handset comes as Lenovo reported dismal March quarter results and its first annual loss in six years, and as it continues to wrestle with the integration of a US acquisition and a slowdown in demand for smartphones and computers.